World Standards Day 2016
What is World Standards Day?
Each year on 14 October, the members of the IEC, ISO and ITU celebrate World Standards Day, which is a means of paying tribute to the collaborative efforts of the thousands of experts worldwide who develop the voluntary technical agreements that are published as international standards.
Whether you're a large multinational or an SME, using standards doesn't just allow you to stay within the law or your contracts. It's an efficient way to perform better, stand out from the crowd and achieve more.
Did You Know?
Standards provide a whole range of benefits for businesses and the economy. View the video below to find out more.
Benefits of Standards
A study by the Centre for Economics and Business Research Ltd (Cebr) shows:
• 84% say using standards has enhanced their reputation
• 70% say standards have improved suppliers' products and services
• 89% say standards optimize their compliance with regulations
By using standards, you not only have the reassurance and advantages of adopting the very highest quality processes. You tell the world you're committed to excellence too.
Here are some stats to show you the impact and benefit of standards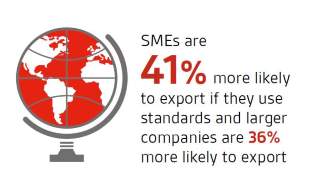 Win a Fortnum & Mason Hamper
For your chance to win and celebrate with us on Friday 14th October for World Standards Day 2016. Register for you chance to win*.
* To qualify for a chance to win this hamper you will have bought a standard from BSI between: 01/01/2016 - 14/10/2016
It's not too late ...
Do not worry if you have not bought a standard from us this year there is still time.
Top 3 Standards
1. ISO 9001
With more than a million organizations certified to ISO 9001, it's the most widely recognized standard in the world. It sets out requirements for quality management systems, and is suitable for all types of organizations.
2. ISO 14001
BS EN ISO 14001 puts environmental management at the heart of your organization's operations to help meet environmental regulations and improve efficiency and environmental performance.
3. ISO 27001
BS ISO/IEC 27001:2013 is an internationally acclaimed standard forinformation security management. It is the foundation standard for implementing an Information Security Management System (ISMS).
We have over 90,000 standards that we provide for a variety of different sectors from medical devices to manufacturing. View all of them here
---