BSI Connect Screen
BSI Connect Screen
Supply chain risk intelligence and supplier management platform
Supply chain risk intelligence and supplier management platform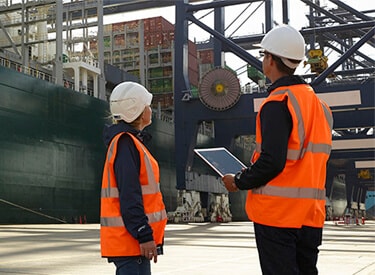 BSI Connect Screen is an integrated platform that employs a risk-based approach to supply chain risk management programs. It targets the biggest global supply chain threats to help organizations inspire trust and build resilience through data-driven insight.
Our platform contains the largest proprietary global supply chain risk intelligence database that looks at more than 20 risk ratings in over 200 countries. By infusing geographic risk data and analysis into the assessment process, organizations can track compliance and risk throughout the supply chain to maximize visibility and focus on the biggest issues confronting them.
Choose BSI Connect Screen to accelerate your understanding of supply chain risk and gain insight to empower decision making to build a more resilient supply chain.
How BSI Connect Screen can help you
Through the latest risk intelligence and supplier management platform, BSI Connect Screen allows you to:
Protect your brand reputation
Mitigate supply chain risk
Protect shareholder value
Achieve transparency of your supply chain
BSI Connect Screen is used by importers, manufacturers, governments and associations to quantify the risk of supply chain incidents globally. Our unique blend of risk intelligence and supplier audit management tools deliver scalable, flexible and robust functionality that is leveraged by global security, business continuity / resilience, environmental health and safety, global social responsibility/sustainability leaders, and many more.
BSI Connect Screen subscriptions
BSI Connect SCREEN Intelligence
BSI Connect Screen subscriptions to suit your needs
Select functionality to suit the maturity of your supply chain.
Our entry level subscription is an ideal starting point for supply chain risk news - your trusted source of risk intelligence.
Features include:
Supply chain intelligence articles
Interactive news filters
Special risk reports
Personalized daily intelligence email updates
BSI Connect Screen Intelligence
Our Screen Intelligence subscription is designed for supply chain professionals looking to leverage our team of analysts to stay ahead of risk with our predictive analytics and best practice recommendations.
Screen Intelligence provides comprehensive analysis on global disruptions, trends, and incident data to create customized points of interest and alerts on issues that can compromise the integrity of your supply chain.
Screen Intelligence includes all the features of Screen News plus:
Choice of 4 modules including associated threat variables – security, business continuity, csr/sustainability, food
Quarterly intelligence reviews
Comprehensive risk reports, articles and insights
Global interactive risk mapping
Active monitoring on points of interest
Country risk profiles containing the current supply chain trends
Our premium Screen Edge subscription unlocks supply chain resilience. It can be adapted to mitigate risk and provide clear line of sight across your supply chain. Screen Edge combines the features of the Screen Intelligence with our powerful supplier compliance management solution into one comprehensive view that takes into consideration geographic and site risk.
All Screen articles, intelligence, news, in-depth special reports and country reports
Personalized intelligence alerts
Manage and review supplier audits: self-assessment, internal or externally facilitated audits
View supplier risk mapping
Supplier audits and self-assessments using pre-built or custom templates
Manage corrective and preventive actions (CAPA)
Notifications when suppliers complete and submit audits or CAPAs
Assess supply chain audit risks with infused intelligence
BSI threat ratings based on selected module
Access to BSI supply chain incident data and trend analysis
Seamless communication with global suppliers through automatic translations
Dashboards to track supplier compliance
Set KPIs, risk ratings and compliance metrics
Access to BSI intelligence analysts and supply chain analysts