BSI and Project Endeavour
BSI and Project Endeavour
Supporting the safe trialling and testing of CAVs
Supporting the safe trialling and testing of CAVs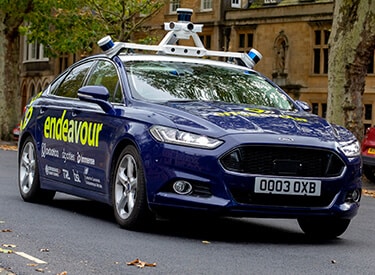 Driving innovation in transport technologies
Project Endeavour is part-funded by the UK Centre for Connected and Autonomous Vehicles (CCAV), delivered in partnership with Innovate UK. It is part of the UK government's £100 million Intelligent mobility fund, supporting the Future of Mobility Grand Challenge.
As a key part of the UK government's modern industrial strategy, the Future of Mobility Grand Challenge was announced in 2017 to encourage and support extraordinary innovation in UK engineering and technology, making the UK a world leader within the transport industries. This includes facilitating profound changes in transport technologies and business models, to make the movement of people, goods and services across the nation greener, safer, easier and more reliable.
BSI is pleased to be part of Project Endeavour; this collaborative project is enabling us to apply our expertise in standards and certification to help ensure and support the safe and secure trialling and development testing of automated and autonomous vehicles on our roads and on test tracks. We're committed to working together with the team and industry to help accelerate innovation whilst ensuring safety and cybersecurity.