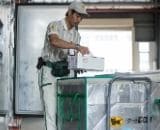 Client success story
Challenge: Yamato set the standard for quality in a fast-growing market
As demand expands for the delivery of temperature-sensitive goods like fresh food, the complexity of the supply chain brings increasing risks. Yamato, Japan's largest door-to-door delivery company, wanted to reduce these risks in order to build trust in the industry, grow the market and expand its business overseas. PAS 1018 was created to define good practice in a fast-growing and important industry.
The fast-track standard covers:
Monitoring and improving the refrigerated delivery service, including parcel handling
Transportation of chilled or frozen parcels in temperature-controlled vehicles via geographical routing systems
Requirements for resources, equipment, operations and communications
Conditions for operation sites, work instructions, operational manuals and staff training

Industry-wide growth and customer confidence
By driving forward the development of industry-wide good practice, Yamato developed customer confidence and boosted market growth and business expansion. The fast-track standard helps the delivery industry as a whole to increase quality and consistency, helps service users to make informed decisions when choosing providers and helps consumers receive fresh products.
Global market influence
Yamato also increased their market influence at an international level, further positioning themselves as a trustworthy leader in the field. Creating the fast-track standard brought Yamato into contact with a range of experts across different countries - which expanded not only their international network but also their expertise.