Creating an inclusive service for all
Creating an inclusive service for all
Introducing the BSI Inclusive Service Kitemark™
Introducing the BSI Inclusive Service Kitemark™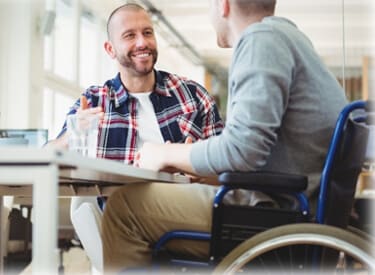 New guidance to help organizations identify and meet the needs of vulnerable customers
As the COVID-19 pandemic has demonstrated, we can all become vulnerable at any time. Ill health, financial hardship, mental health problems or life events such as relationship breakdown can impact anyone, at any time. As consumers, that vulnerability makes it so much harder to make smart, informed choices.
BS 18477 Inclusive Service Provision helps organizations identify and meet the needs of vulnerable customers. In 2022, a new international standard, BS ISO 22458:2022 was published, developed from this ground-breaking British standard. In line with the standard, BSI has introduced the Inclusive Service Kitemark to help organizations demonstrate their commitment to vulnerable consumers.
How does BS ISO 22458 help vulnerable consumers?
Superseding BS 18477, BS ISO 22458 provides a framework to help organizations and their employees understand the underlying factors involved in consumer vulnerability, and work to develop processes to help with the problem.
Our Inclusive Service Kitemark schemes cover topics such as the identification of customer vulnerability, inclusive design of products and services and data collection, protection and sharing.
Demonstrate your commitment to vulnerable consumers
Achieving the BSI Inclusive Service Kitemark demonstrates that your organization is compliant to BS ISO 22458 and provides an inclusive service that is available, usable and accessible to all consumers equally – regardless of personal circumstances.
What does it involve?
To achieve the BSI Inclusive Service Kitemark, you'll be assessed by one of our expert auditors against the BS ISO 22458 standard. This will include a two-part assessment.
Following a successful recommendation, you'll be issued your certificate to demonstrate that your services are fair and accessible to all. Instilling your clients with confidence.
Our Kitemark schemes for Inclusive Services can provide the following:
Increased accessibility - Focus on how services can be made available and accessible to all. Whether it be an emphasis on using clear, concise language to help those with literacy/cognitive problems or providing multiple communication channels.

Strengthen skills - No business wants to cause its customers needless distress or difficulty. Staff morale and skill levels improve when they are equipped to help people. Employees should be authorized to exercise discretion in managing vulnerable customers, which can be rewarding and interesting.

Compliance - Demonstrate to your regulators that you anticipate and meet the needs of your customers. Win more business whilst increasing stakeholder confidence with the service you provide to all customers - regardless of circumstance.

Brand protection - Avoid negative publicity as a result of getting customer service wrong. We've all seen newspaper consumer interest stories about elderly people being treated poorly by utility companies, or recently bereaved people given harsh treatment. While this level of service is seldom deliberate, having processes in place will help to prevent this damaging publicity.