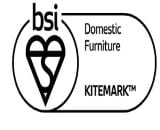 Domestic furniture is a key feature of many lives. It provides comfort, familiarity and a place to relax with loved ones.
When choosing a piece of furniture, a lot of factors need to be considered. Is it affordable? Will it last? What is its impact on the environment?
With so many options on the market, it can be difficult to know how to buy the best – and when making such a large financial commitment, buying the best is key.
The BSI Kitemark™ for domestic furniture is a mark of quality and distinction. Furniture holding this Kitemark has been made with care and skill in an environment with rigorous factory process controls.
To achieve the Kitemark, each product type must be independently tested in accredited laboratories to withstand extremely demanding safety, stability and durability trials. This includes testing for compliance with the UK furniture and furnishings fire safety regulations, ensuring they meet the necessary ignition resistance levels.
Exclusive to BSI, this Kitemark can be found on domestic furniture products including recliners, sofas and sofa-beds, beds and mattresses.