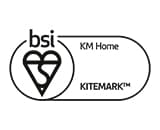 Why join the Kitemark Home scheme?
In the UK, there are over 2,300 active builders* who deliver more than 200,000 homes annually*. However, with the government's ambitious target of delivering over 300,000 homes*, the need to build quality homes quickly has become paramount in order to meet the growing demand for housing.
Despite the availability of numerous builders, consumer confidence in new build homes remains low. According to a YouGov* survey, a staggering 68% expressed a negative opinion of new build homes. Further to this security, energy performance and quality ranked as their top build concerns when it comes to buying a new build property.
Designed to generate trust amongst homebuyers, BSI have created Kitemark Home, an independent certification to enable housebuilders to demonstrate quality to the buyer.
*Active builders, according to propertydata.com, Homes delivered, according to National Statistics Office, Government home target, according to the UK Parliament, YouGov survey conducted in May 2022