Digital and physical security
Digital and physical security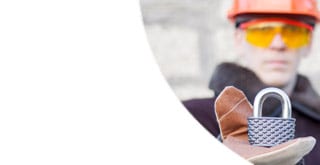 How secure is your construction business?
In today's world, companies must be trusted to safeguard sensitive information. A resilient organization must manage its information – physical, digital and intellectual property – throughout its lifecycle, from source to destruction.
This requires the adoption of information security-minded practices that allow your stakeholders to gather, store, access and use information securely and appropriately.
Construction sites can be dangerous, how do you protect workers and the public?

What about protecting the site from vandalism, arson and theft of valuable items?

How about cyber threats, how do you secure devices and protect intellectual property from the clutches of the cyber-crime underworld?

What about espionage, market manipulation and infrastructure disruption?
Mitigating these threats require businesses to think about - and act upon - essential physical and cyber security measures, not least for your own protection, but for the protection of your customers and third-parties.
How we can help
As a leading provider of research and development, auditing services, training, data compliance, managed technology solutions and advisory services, we help organizations respond to everyday information security challenges. We can help you:
Embed a robust framework to build information resilience
Proactively identify, anticipate and respond to cyber threats and information security risks
Safely manage and secure your customers' information, strengthen your information governance and safeguard your critical infrastructure.
Solutions to help you prevent security risks
We have a wide range of solutions to help you manage security and protect your business:
Standards for Construction and Built Environment:
Training for Construction and Built Environment:
Assessment and testing services:
Business Improvement Software and Digital tools for Construction and Built Environment:
The reassuringly easy way to work with standards
BSOL is a simple online tool that gives you instant access to standards you need.
---