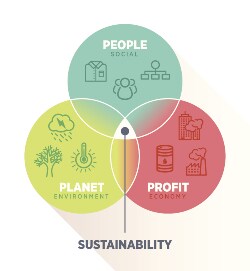 To support stakeholders in their ongoing effort to deal with complex issues and challenges in a holistic and meaningful way, BSI is rolling out its Sustainable Finance Standardization Programme. The Programme, designed and delivered with UK Government (BEIS) and UK industry (City of London's GFI) support, is a 5-year long initiative focused on the development of globally relevant, consensus-based standards on the subject of sustainable finance.
The Programme aims to encourage the wider uptake of sustainable finance practices, behaviours, thinking, products and services (i.e. mainstreaming sustainable finance), while helping organizations from the financial sector align themselves with the global SDGs.
More specifically, the aims of BSI's Sustainable Finance Standardization Programme are to:
Promote better understanding of sustainable finance, and the economic, environmental and social benefits associated with adoption of related practices
Provide greater consistency and reliability in how sustainability (and ESG) considerations are integrated into investment decision-making
Improve transparency and investor confidence, providing a means for organizations (e.g. fund managers or advisors) to demonstrate practices are sustainable, responsible and meet globally-agreed standards
Mobilize green finance to accelerate growth of sustainable products, services, projects
Build broad consensus on common use of definitions, methodologies and reporting measures
Complement existing standards, codes and initiatives, avoiding duplication, and scaling-up their impact
Enable innovation using outcomes-based approaches where possible.