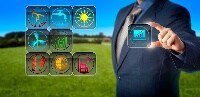 Green and sustainable finance is on the rise. The 17 UN Sustainable Development Goals (SDGs) have provided an overarching set of policy goals for governments to work towards and the financial sector is essential to helping achieve these goals. There have been global regulatory responses requiring action and responsibility from business to consider the impact of their operations in relation to sustainability and environmental, social and corporate governance (ESG) factors, including finance and investment. Increasingly, it is recognized that the role played by financial markets is critical to ensuring sustainability and positive ESG outcomes.
But how organizations from the financial sector are meant to operate to support the SDGs is not yet clear. Companies are struggling with basic issues, from no common definitions and approaches, a lack of transparency and detail in existing approaches that some subscribe to, to a lack of consistent practices and guidance on integrating sustainability and ESG considerations in financial decision-making.
The UK is a global leader in green finance. As the UK's National Standards Body and a global standardization leader, BSI is well placed to develop a set of robust, internationally-relevant sustainable finance standards. These standards, developed in collaboration with a vast stakeholder community and building upon existing effort and initiatives, will support financial organizations globally in aligning themselves with, and working towards, the SDGs. This will be the first step to shifting sustainable finance into the mainstream.