Safe Quality Food (SQF)
Safe Quality Food (SQF)
The food standard that ensures food is prepared and handled safely
The food standard that ensures food is prepared and handled safely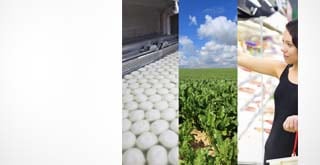 What is SQF?
The SQF (Safe Quality Food) Program is one of the world's leading food safety and quality management systems, and is designed to meet the needs of retailers and suppliers worldwide.
SQF provides independent certification that a product, process or service complies with international and domestic food safety regulations, and enables a food supplier to give assurances that food has been produced, prepared and handled according to the highest possible standards.
Benefits of SQF
There are clear benefits associated with certification to the SQF program:
Enables you to demonstrate a commitment to food safety
Conveys a degree of confidence required by consumers, retailers and buyers within the food industry
Provides buyers, consumers, government enforcement and trade agencies with justified assurance that control systems are in place to assure the safe production of food
Regular assessments help you to continually monitor your food safety system
BSI is an SQF Institute (SQFi) licensed (approved) certification body to deliver assessments against SQF. We are a recognized leader and provider of SQF certification in the USA and Australian markets. In Australia, the leading supermarket retailer, Coles Group Limited (Coles), will only permit house-brand products in store that meet their Coles SQF criteria. We are recognized by Coles to deliver audits against this code of practice.

In the USA, the leading retailer, Wal-Mart, has recognized us as an approved certification body for its house-brand products.
Why BSI?
BSI believes the world should be supplied safe, high-quality food. We offer a broad range of food safety certification and risk management services.
BSI can conduct integrated audits for a wide range of food safety standards across the entire food and beverage supply chain – including GFSI-recognized food safety standards.
---