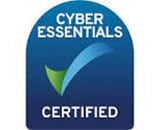 What is the Cyber Essentials certification?
Cyber Essentials is an effective, UK Government backed scheme that help you protect your organization against whole range of the most common cyber-attacks. This is important because vulnerability to basic attacks can mark you as target for more in-depth unwanted attention from cyber criminals and others.
The scheme focuses on 5 key areas:
Secure Configuration
Implementing security measures when building and installing computers and network devices to reduce unnecessary vulnerabilities.
Boundary Firewalls and Internet Gateways
Providing a basic level of protection where an organization connects to the Internet.
Access Control and Administrative Privilege Management
Protecting used accounts and helping prevent misuse of privileged accounts.
Patch Management
Keeping the software used on computers and network devices up to date and resisting low-level cyber-attacks.
Malware Protection
Protecting against a broad range of malware (including computer viruses, worms, spyware, botnet software and ransomware), including options for malware removal, which will protect your computer, your privacy, and your important documents from attack.
The Cyber Essentials scheme requires the completion of a self-assessment questionnaire which you will be guided through in an intuitive online process to ensure your application is compliant. The application will then be formally assessed. On successful assessment, you will receive a Cyber Essentials certificate.