European Migrant Crisis: Impacts on the Supply Chain
As a result of a rapid influx of migrants within Europe over the past two years, European Union (EU) member states have taken extraordinary measures, including imposing new border controls throughout the region.
Border Checks in Europe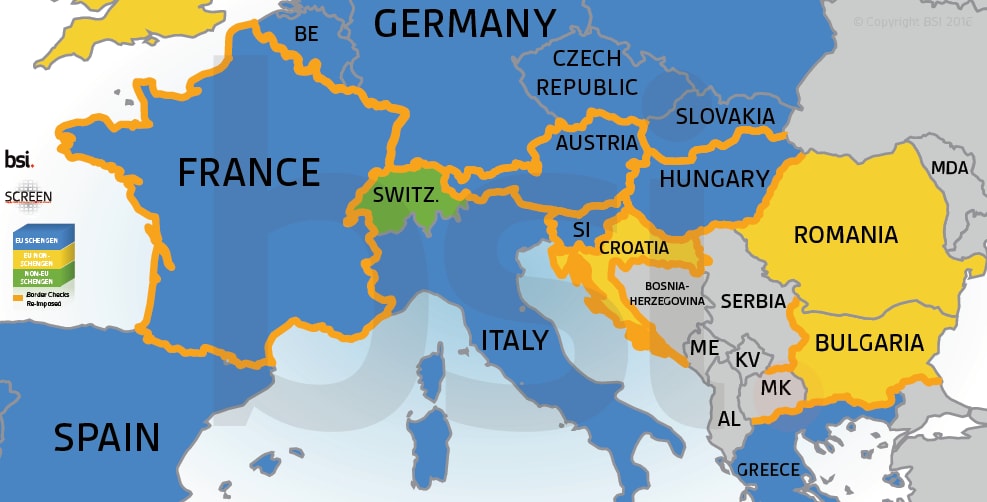 See more on page 4 of the European Migrant Crisis report
These measures have seriously hampered the free movement of cargo in many areas of the continent, leading to significant delays and added costs to cross-border shipments. Stowaway attempts into cargo trucks also often lead to costly losses of goods and expose companies to expensive fines.
This BSI special report provides an overview of the cargo disruption threats posed by the crisis to date, highlights current geographic flashpoints for stowaway attempts, and considers the implications of the major initiatives currently under consideration to address the crisis. Recent inflows of refugees to Europe have occurred at a massive scale, resulting in the largest migrant crisis since World War II. Conflicts in the Middle East, North Africa, and Central Asia, which have driven much of the recent migration, show little sign of subsiding in the very near term, suggesting that the crisis will likely continue to pose a significant threat to the supply chain for the foreseeable future.
Download this report to learn more about:
Delays to Cross-Border Transportation
Economic Costs of the Crisis
Contaminated and Lost Shipments
Migrant Crisis in Europe: Current Situation
Current Flashpoints - Calais, France and Idomeni, Greece
Emerging Flashpoint – Dunkirk, France
---