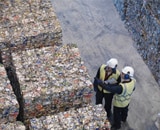 Defining Waste: How does waste impact the environment and what can we do to reduce it?
Date: Tuesday 13 September 2022
Time: 10:00 - 11:00 UK time
Organizations must understand the impact their waste management has on the environment and establish plans to reduce it. Waste management isn't just about sewage, but any resource that is wasted or has become unusable in production processes.
Join us on the Tuesday 13 September where our experts will take you through a path to understanding the problem of waste and how to reduce your environmental impact.