Sustainable Industry - Tata Steel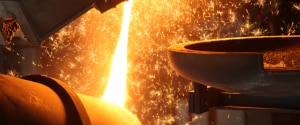 When operating in an industry where a global supply chain presents many challenges to businesses looking to operate sustainably, standards are a valuable tool to establish sustainability credentials for businesses. Peter Hodgson, Manager for Product Sustainability at Tata Steel, discusses how the use of standards has allowed Tata Steel to achieve its sustainability goals.
Tata Steel sources ores and alloys from all over the world. Standards are fundamental to its operations both in helping to make sure they source raw materials sustainably and in providing assurance to the businesses they supply to.
"We're clear that being environmentally responsible and sustainable is the right thing to do and our senior leadership are convinced about that. We are on a journey to spread the sustainability culture across the business and standards are an integral part of that," said Peter.
"We refer to standards when we're setting our strategy, targets and objectives. It enables us to put a framework around what we're aiming to do."
Companies that Tata Steel supplies to are very aware of the risks to their own brands with being associated with a business that doesn't operate in a responsible and sustainable way. To provide suppliers with the reassurance they're looking for, Tata Steel has attained certification to BES 6001 'Responsible Sourcing of Construction Products'.
BES 6001 covers requirements including: environmental management systems; health and safety policies; business ethics; interaction with local communities; greenhouse gas emissions; waste prevention and waste management, and transport impacts.
Tata Steel also requires its suppliers to comply with international standards as a reliable indicator that they are suitable to do business with. "The first level is due diligence on human rights, including not using child labour and conflict avoidance, and a robust health and safety policy backed up by certification," said Peter.
"We would also be looking at certification to BS EN ISO 14001 as a minimum expectation and beyond that, a policy on water usage, climate change mitigation and resource efficiency."
As well as being the right thing to do, responsible sourcing is good for business; "Responsible sourcing certification is a differentiator and it helps our market position that we source responsibly," said Peter. "Our customers are asking these questions of us and what's important to our customers is important to us."
Tata Steel also is the first steel manufacturer to become an approved Environmental Product Declaration (EPD) programme operator and is able to create product-specific EPDs for partner companies that comply with BS EN 15804 and BS EN ISO 14025 standards.
An EPD describes the potential environmental impacts of a product based on a life cycle assessment from raw material extraction, manufacture, fabrication through to use and end-of-life. It is an internationally-recognized communication tool for conveying the relevant data.
"Supplying EPDs, along with our BES 6001 responsible sourcing certification, enables us to help our construction supply chains to accrue points under building certification schemes such as LEED and BREEAM, on their building projects," said Peter. "The robust level of transparency and reporting under the EPD programme allows others to make optimum resource decisions and demonstrates our commitment to sustainability, the sustainability credentials of steel and our steel building products."
Sustainable manufacturing is key and something all businesses should be considering. By using standards as best practice you can ensure that you are operationally more sustainable. BSI's latest report 'Optimizing Efficiency' looks at energy optimization and outlines specific standards that producers of electrical appliances can use to inform their processes and operations. It also looks at how standards are shaping the development of smart grid technologies and applications.
The Optimizing Efficiency report covers:
Standards in energy efficiency and improved manufacturing sustainability
Standards and the smart grid
The future factory and energy efficiency