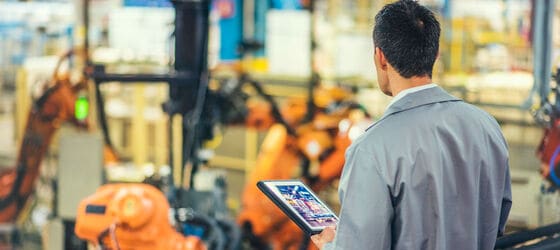 When it comes to investing in new digital technologies, today's manufacturing leaders tend to be cautious and sceptical, with some dismissing the idea of "new-fangled digital solutions".
But put yourself in their shoes – if you're not already wearing them – as the founder and CEO of a successful manufacturing SME. You've spent years, maybe decades, getting where you are today. You've worked incredibly hard, taken risks, suffered sleepless nights. One thing you have not done is fallen for every pricey new technology peddled by salespeople who beat a constant path to your factory door.
So, congratulations. You've survived and prospered despite all the obstacles placed in your path, including most recently the double disruption of Brexit and COVID-19. And you've managed to resist all the hype out there around 'Industry 4.0' and 'digital transformation'.
Resistance is futile
But there's a problem. You may have avoided digital innovation so far – perhaps for sound business and financial reasons – but the world continues to change around you. The fact is that manufacturing, like every other area of our lives, really is going through a technological industrial revolution. Not all of this is empty hype and meaningless jargon. Ultimately, a blanket resistance to change can only end in obsolescence. To remain relevant, manufacturing businesses must find ways of understanding and taking part in the revolution. The key question is 'how?'
Digital manufacturing potentially offers companies more personalized, customized products, and improved process efficiencies. It also promises to optimize inventory management, logistics and productivity. With so many new opportunities facing them, it can be challenging for manufacturers to identify the right steps for growth. Options range from simply automating parts and inventory replenishment from suppliers, to aiming to create fully automated and digitized factories, right through to managing products when they're in use by customers.
So, where to start?
Let's take just one example – from the built environment sector. Here, the transformative digital process of Building Information Modelling (BIM) has enormous implications for manufacturers of construction products.
BIM uses three-dimensional digital modelling and intelligent structured data to bring together all the components that make up a construction project in the development stage. It creates a common language, shared knowledge and increased transparency between all the parties involved, from the main contractor through to sub-contractors, specialists and professionals. Among other outcomes, BIM means that specifiers, such as architects and designers, are increasingly interacting with their supply chain in a different way, using digital versions of products – BIM Objects – in the development and design process.
If you are a manufacturer of construction products, BIM changes your route to market. In effect, online BIM Object libraries are your new shop window, providing visibility of your products to specifiers. Many manufacturers are now producing BIM Objects – or 'digital twins' – of their products so they can be viewed and specified. Success in this area is turning some manufacturers into preferred suppliers. Failure is leaving others on the sidelines, with their products left unseen and unsold.
A standards-based approach
Across industry, BSI is focused on a standards-based approach to shape best practices and increase confidence and trust to benefit the wider market.
Continuing the example of BIM, BSI has driven the creation of a BSI Kitemark for BIM Objects, as well as influencing the development of ISO 19650, the first international standard for information management using BIM, published in 2019, which has improved communication and trust across the supply chain.
Adopting a standards-based approach, coupled with good communication to break down barriers and build support, is a major stride towards the successful adoption of BIM and achieving digital transformation in the built environment sector.
"But we don't make construction products…"
It's far from just the makers of building products who are overcoming risks and grasping opportunities presented by technological change. There are digital solutions emerging across the whole spectrum of manufacturing industry, and BSI is working with key partners in numerous sectors to develop standards and recommendations to help manufacturers operate in a more connected and digital manner. In future blogs, we'll look at more areas where manufacturers can improve their resilience by discovering them.
Open up to opportunity
If you're just starting out on your digital manufacturing journey, there may be many hurdles ahead, from limited finance for capital investment to lack of trust in solution providers. But, of all the current barriers to adoption, the psychological one needs to come down first. Cautious or sceptical business leaders can start with a commitment to collaborate, learn and be open to digital opportunities when they arise.
After all, this is not about your story so far. It's all about the next successful chapter.