Engineering for net zero blog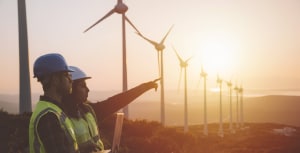 A recent webinar delivered a conversation between Alan Brown, Professor of Digital Economy at the University of Exeter Business School and Martin Aston, MD of Förvanda Ltd, discussion how we can move towards net zero by taking a new approach to engineering and design, underpinned by digital transformation.

A change of approach

We need to change how we approach engineering, because achieving net zero requires complex interdependencies. For example, we now have electric cars but they're a very small part of the equation. The car might have zero emissions at the point of use, but the current process for designing and producing that car is far from energy efficient. Therefore, we need a systems approach to engineering, with a much more integrated engineering design process. Digitalization has a key role to play here and interoperability will become paramount if we're going to do this.

Learnings from other sectors

If we compare a landline phone with social media. Martin agreed that we don't want to simply digitize today's processes.

"Social media is not the digitalization of a landline phone; you're doing parallel analyses, engaging everybody at the same time and using common standards, but you're also enabling people to do different analyses in parallel in real time. And digitalization gives us the opportunity to deliver that level of transformation in engineering. It's a complete culture change and it brings democratization; suddenly everybody is as powerful as everybody else. But now engineering needs to develop those systems, the people to work within them, and the data standards to enable us to do that."

So how do we actually apply this thinking to engineering? Alan shared how if we take software engineering as another example, it is the culture at the root of the issue. He shares "Years ago, when I was working in large-scale software development, we were very concerned with consistency, quality of delivery and specifying everything upfront. And there were a lot of efforts on engineering processes within the software world. And that got us to a point where we could begin to build large-scale dependable systems."
However, when these systems were analysed it was discovered that not only were they highly expensive, it was also difficult for those systems to adapt when the environment was rapidly changing.

Also highlighting his discovery from this "That taught us we needed more than rigour, reliability and quality. We needed our systems to be more flexible. And finding out where and how that flexibility fed in was essential. So we began to build in architectural design approaches that allowed us to start replacing activities, or monitoring what was going on, or adapt to developments like advances in machine learning or changing circumstances, the advances that we've seen in machine learning, in pattern matching and so on."

Complex challenges

Martin expanded on this point, saying that flexibility was critical but brings challenges of its own.

"We're talking about net zero. So you've suddenly got to be able to connect a company that's developing a hydrogen powered propulsion system with an organization that's actually distributing hydrogen to airports and bus stations. If this system isn't designed as a whole, it doesn't work."

"So that's why the whole engineering challenge is huge. It's an exciting time and there are massive opportunities, but we really need to take a step back and look at what we need to do. And we've got to get cracking now."