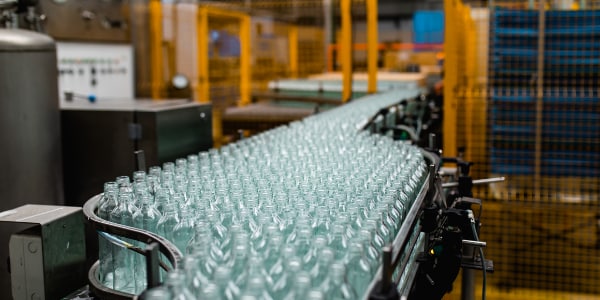 Manufacturers must step up to the plate if the UK is to reach its goal of net zero by 2050 – but help is at hand
Over the past few months, most business leaders will have become increasingly aware of the UK's target for all businesses to achieve 'net zero' greenhouse gas (GHG) emissions by 2050.
You may not need reminding that net zero refers to the balance between the amount of GHG produced and the amount removed from the atmosphere. Net zero is achieved when the amount added is no more than the amount taken away.
Net zero is a worthy and important objective, because increasing levels of GHGs (of which carbon is the most common) contribute to climate change – and climate change threatens us all. For any sceptics still out there, the World Meteorological Organisation says the warmest 20 years on record have all been in the last 22 years, with the most recent years among the warmest. Scientists overwhelmingly agree that, if no action is taken, the world's temperature could increase by up to 5℃ by 2100, with catastrophic consequences.
Progress so far
BSI recently collaborated with The Institute of Environmental Management and Assessment (IEMA) to check the progress of UK businesses on the road to net zero. Through our Net Zero Barometer, based on a survey of 1,000 senior decision-makers across a range of UK industries, we found that if businesses continue at their current rate of progress, it is highly likely they will fall short of achieving the Government's 2050 net zero target.
Progress towards net zero has varied dramatically, with some companies investing heavily and making major changes, while others have made only small incremental improvements or taken no action at all. Lack of urgency towards net zero has been compounded by the disruption and additional business pressures wrought by COVID-19. Not surprisingly, perhaps, our Net Zero Barometer found the plans of 68% of businesses have been set back by the pandemic. For some, Brexit has also slowed progress.
On a more positive note, we found a genuine desire among businesses to achieve net zero targets, with seven out of ten leaders confirming that their organizations have made, or are considering making, a commitment to net zero.
This leaves the business community grappling with the challenge, "how do we actually achieve our own net zero goal?" The UK's manufacturers have a particularly vital role to play, because energy consumption across the manufacturing sector is on average higher than most other sectors.
Manufacturing leaders are ahead of the curve, with 88% of them having at least some awareness of the implications of net zero for their businesses. This may be because manufacturers have been more exposed than other sectors to techniques such as carbon footprinting of products, along with a clear methodology for it in PAS 2050, which has been adopted for a wide variety of consumer products.
Play your part
The first decisive step you can take, if you haven't yet done so, is to make a firm commitment to achieving net zero in your business. The next is to identify barriers. These may include a lack of guidance, felt by 83% of business leaders in our Net Zero Barometer, and cost, cited by 44%.
The key to overcoming these hurdles must be to work together, adopt the right approach, and use all the support available. BSI can help, with reliable guidance and effective tools, including recognized business standards to help you manage and reduce carbon emissions. Some standards can bring significant cost-efficiencies, while others represent worthwhile investment in less tangible benefits, such as strengthening your green credentials, competitive edge, and employee motivation.
To give one example, a medium-sized manufacturer based in Stoke is in no doubt that BSI certification to the energy management standard ISO 50001 has cut its energy costs significantly. The compliance manager has commented, "Our commitment is linked to return on investment. ISO 50001 gives the structure and justification for spending money, and then it calculates the actual savings made."
He says the standard has also helped to win new business: "Many customer visits take place throughout the year and we can showcase our improvements, such as solar panels and LED lighting. At the early stages of a tender we are evaluated, and ISO 50001 has been mentioned specifically in some documents. BSI certification does appear to be influential for larger organizations."
He adds, "An increasingly important contributing factor to being awarded business is sustainability, and ISO 50001 demonstrates our commitment to it."
Take a holistic view
The road to net zero demands strategic thinking, like that of Volvo Cars, which has committed to becoming a climate neutral company by 2040. The company's ambitions go beyond addressing vehicle exhaust emissions to encompass all-out electrification, recycling and reuse of materials, and tackling carbon emissions in its manufacturing network, its wider operations and its supply chain.
Such extensive measures require deep understanding of environmental issues, alongside a willingness to innovate and co-create. At the heart of achieving net zero through this new approach lies the sharing of data, and BSI is committed to enhancing the environment for digital collaboration, by promoting the clarity of standards and by spreading industry best practice.
As a manufacturer, the means exist for you to focus on carbon reduction, hit your 2050 net zero target, and contribute to society's wider goals. At the same time, you can embed excellent habits and deliver improved organizational performance and resilience. Now, all you need is the will.
Don't think 'net zero', think 'net gain'.