Catch up on the significant revisions made to one of Europe's key EMC standards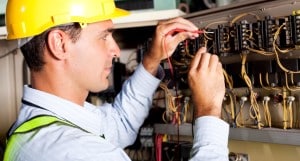 Electrotechnical standards must be continually reviewed to check they're keeping up with technology. This blog post outlines how Europe's EMC standard on protecting low voltage public networks has recently changed.
Public low-voltage mains distribution networks need protection from harmonic currents because they overheat system wiring and transformers, and shorten their service life.
To help guard against the harmful impacts of harmonic currents, a European standard specifies the limits of harmonic current emissions for a large variety of electrical and electronic equipment with input currents up to and including 16A per phase. The standard was last published in 2014 but was immediately subject to a proposal to revise it. The result is an updated edition: BS EN 61000-3-2:2019 Electromagnetic compatibility (EMC) - Part 3-2: Limits - Limits for harmonic current emissions (equipment input current ≤16 A per phase) which has just been published.
Revising the standard
Starting in May 2014, the revision of BS EN 61000-3-2 focused on lighting equipment and on test conditions for television receivers and induction cooking appliances. In addition the standard needed an editorial update to conform to IEC Directives Part 2 and related clarifications.
The revision was handled by the IEC Working Group which deals with harmonics and other low frequency disturbances. It includes two UK experts, one of whom has particular expertise in the electromagnetic compatibility of household products; the other specializes in professional lighting technology for the entertainment and installation industries.
The revised standard now includes significant technical changes which update, modify and clarify the 2014 text. Specifically the emission limits for lighting equipment with a rated power ≤ 25 W have been updated to take into account new types of lighting equipment. A threshold of 5 W under which no emission limits apply to all lighting equipment has been added. Requirements applying to the dimmers when operating non-incandescent lamps have been modified. Test conditions for digital load side transmission control devices have been added and the use of reference lamps and reference ballasts for the tests of lighting equipment has been removed.
In addition the terminology used for lighting equipment has been simplified and clarified, as has been the classification of emergency lighting equipment, while professional luminaires for stage lighting and studios under Class A have been classified.
A clarification has been made for lighting equipment including one control module with an active input power ≤ 2 W. Also test conditions for television receivers and induction hobs have been updated, the latter taking into account other types of cooking appliances. Finally, for consistency with IEC 61000-3-12, a change of the scope of IEC 61000-3-2 from equipment with an input current ≤ 16 A to equipment with a rated input current ≤ 16 A has been made.
Who needs BS EN 61000-3-2?
This standard will be used by EMC test laboratories and electrical testing laboratories as well as manufacturers of equipment which can be operated from the public mains supply. It especially applies to manufacturers producing categories of equipment present in the market in large volumes (e.g. IT equipment or lighting equipment). It will also be important to inspectors and quality assessors.
The 2019 revision of BS EN 61000-3-2 therefore supplies a necessary update to a standard that's important to a large number of manufacturers and testers in the area of harmonic current emissions.