Supporting the adoption of autonomous farming machinery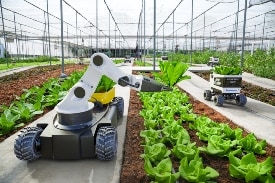 Agricultural productivity and food security are under threat from a shortage of farm labour and the need for more intensive crop management in the face of climate change. The adoption of autonomous farm robots could ease some of this pressure and bring many other benefits. This blog post introduces a new standard designed to help farmers with the confident and safe adoption of autonomous mobile machinery (AMM) on farms and in horticulture.
Autonomous Mobile Machinery (AMM)
When it comes to the use of autonomous mobile machinery (AMM) in agriculture, it appears that while design standards are mature, adoption of the technology is falling behind.
At BSI, this highlighted a gap in standardization in relation to the use of AMM in the United Kingdom. This gap was identified as a potential inhibitor to both the use of AMM by farmers and the further development of the AMM manufacturing industry.
Industrious and accurate
The wider application of AMM has great advantages for the agricultural industry.
Drones, self-driving tractors and seed-planting robots are among the innovations that could be key to future food supplies, as autonomous machinery can help to produce more crops with greater efficiencies and reduced impact on the environment.
They offer advancements in efficiency, more accurate dosing of feeds or pesticides, greater accuracy in measuring the consumption of natural resources, use in a scientific controlled environment, and more.
Yet many farmers may be reluctant to buy or hire AMM services because the way the equipment is used is unfamiliar, or they may have concerns over legality, health and safety and the cost of the equipment.
Notwithstanding, it remains the case that in the future most UK farmers will probably use a range of autonomous mobile machinery and other automation, just as most of them now use tractors. So, it seems sensible to put some effort into helping accelerate the adoption of AMM in UK agriculture.
Moreover, in the past, the UK was a major farm equipment net exporter and the UK Department of International Trade sees exports of agricultural autonomous mobile machinery and equipment as a way to potentially recapture some of that export market. All of this has led to BSI collaborating with the sector to produce BS 8646:2023 Use of autonomous mobile machinery in agriculture and horticulture. Code of practice.
Best practice safety and risk management
BS 8646 has a simple remit. It gives recommendations for the safe use of autonomous mobile machinery (AMM). It applies to ground-based AMM in agriculture and horticulture, including controlled environment production in greenhouses and polytunnels.
The standard describes a best practice safety and risk management process that can be applied to farming operations. It provides information on instructions and training for safe operation and maintenance of AMM; and advises on farm planning and design, including hazard controls and emergency preparedness. It also clarifies the roles and responsibilities of owners and operators as well as designers and manufacturers, and importers and distributors to reduce any uncertainties about who does what. The hope is that by using the standard, users will be able to achieve a safe and confident integration of AMM technology into farming operations.
But more than that. The overarching ambition is that the standard helps encourage the much wider use of AMM technology in all sizes of farm, particularly smaller enterprises. It will provide farmers and horticulturists with an economic advantage at the same time as supporting the growth of an innovative industry.
It's an industry that can more quickly realize the inherent benefits of AMM use, including more economic production of crops and more sustainable production (with regards to environment, climate etc). In time it can help ensure greater food security and contribute to meeting our Net Zero targets. The standard can also aid the development of the AMM manufacturing sector, bringing further benefits to UK plc.