Regenerative agriculture could save our food system. And our planet. Food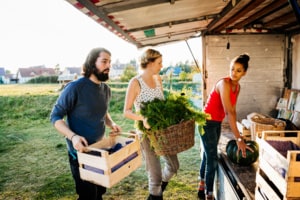 By David Horlock, Managing Director Global Food & Supply Chain at BSI
The way we produce food needs to change. If we don't change, in 60 years we will have lost the ability to feed the world's people, because existing agricultural practices will have exhausted the soil. Incredibly, COP27 in Egypt is the first annual climate gathering of world leaders to include a dedicated space to discuss the impact and implications of climate on agriculture.
Farming employs 1 billion people worldwide. Man-made greenhouse emissions from farming, the loss of natural vegetation, soil erosion and loss of topsoil accounts for 1/3 of global warming and the loss of biodiversity and increasing desertification. And, as we've seen from COVID induced supply chain disruptions, the conflict in Ukraine, and resulting scarcity of NPK [Nitrogen, Phosphate, Potassium] based fertilisers, the global food system is surprisingly brittle and fragile. There is a big question on self-sufficiency. Without food security there is can be no national security
Discussions in Egypt offer reason for hope. Coalitions representing farmers and agri-business increasingly recognize that change is urgently needed. By 2040, we will need to produce 50 percent more food to feed 9 billion people. But each year our industrialized farming methods exhaust 24 billion tonnes of fertile soil. More than 30 percent of farmland worldwide has been lost to desertification from excessive cropping and overgrazing. It takes ten years of conventional cropping to exhaust an inch of topsoil, and one hundred years to produce it. We are spending down our natural capital.
Regenerative agriculture – using smarter planning and nature-based solutions that start to replenish natural capital while reducing greenhouse emissions – has moved to the mainstream. Mechanisms to finance such a major shift in our food system are only just emerging, but it can be done. After all, we have subsidized farmers for decades to produce – and sometimes not to produce – food. The idea of subsidizing farmers to look after natural capital is not as radical an idea as some may believe.
Regenerative agriculture rests on farming practices that we have used for most of human history until relatively recently. Doing it at a scale that can feed 9 billion people will require consumers, governments, farmers, and business to recognise that how we produce and pay for food has to change.
Like the concept of Net Zero itself, regenerative agriculture – and the methods to verify and finance its best practices – needs a common set of definitions and standards around which we can organise our collective effort. Time is running out. Our entire food production system, our people and our planet itself, depends on it.