Peterborough rivals New York for 'World's Smartest City' title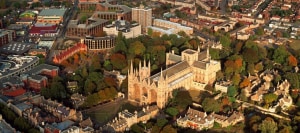 Trevor Gibson is the Smart City Leadership & Development Manager for Opportunity Peterborough, an economic development company which is owned and part-funded by Peterborough City Council.
Trevor has been involved with the development of smart city thinking since 2013 and has been a member of numerous BSI technical committees that have produced the suite of smart city PAS documents.
The big challenges facing cities today include air quality and traffic congestion. Cities are inevitably complex places with significant impacts on the local and global environment influenced by how we manufacture, process and consume resources and manage waste.
"We used PAS 181 in developing the Future Peterborough Framework back in 2015 which set out our approach to becoming a smart city," said Trevor.
"We also developed the Smart City Leadership Programme in partnership with BSI and UrbanDNA and tested the approach in Peterborough. This helped us develop a smart city roadmap using measurement techniques embedded in the standards themselves. We've since gone on to successfully run the programme across cities and states in India and spoken at conferences around the world to share our insight and expertise."
Trevor and his colleagues in Peterborough have also found PAS 183 a valuable guide. "The standard has helped our data team in Peterborough to carry out data focused work to understand the challenges and connections at a more granular level."
Linked to its smart city work, Peterborough has also established the Circular Peterborough initiative, which aims to embed circular economy principles and approaches at city scale to significantly reduce its carbon footprint.
To support this initiative, it has used BS 8001, a guide to the principles of the Circular Economy. "There are many things which can be done locally, for example, outputs from one business traditionally regarded as waste can become a valuable resource to another company. The overall aim is to achieve zero waste with the circular flow of resources becoming ever smaller," said Trevor.
"The 'smart city' concept is about getting leaders to think about the city in a new integrated way as a mechanism for driving change. The circular economy approach can be part of the solution to the challenges we face around pollution, transport, asset utilization and ultimately, climate change."