Occupational health and safety management for the built environment
With its focus on strategic risk management, contractor management and looking after the mental, as well as physical health of workers, it is clear that ISO 45001 provides an excellent framework to support organizations within the built environment whatever services are provided across the asset lifecycle (design, build, operate or decommission).
Added to that, the enhanced focus on statutory and regulatory compliance and alignment to the ISO high level structure makes ISO 45001 a perfect partner to quality, environmental and information security management system standards.
Take for instance ISO 9001 (quality management); ISO 45001 is one way organizations can demonstrate conformance to the personal safety aspects of clause 7.1.4 'Environment for the operation process' but the relationship with ISO 9001 goes much further than that.
Effective occupational health and safety is a key component of corporate responsibility, whilst ISO 45001's strong focus on legal and other requirements supports the regulatory focus within ISO 9001. Both standards also recognize the role human performance and error can have on the outcomes of the systems.
Finally, the requirement in ISO 45001 to align OH&S to the strategic direction of the business, driven by top management and to accelerate continual improvement, illustrates that the relationship between ISO 9001 and ISO 45001 goes well beyond a single clause.
Having complimentary management systems allows organizations to anticipate, adapt and respond to the risks and opportunities created by the highly competitive, innovative built environment sector. This provides organizations, large and small, with the resiliency and agility needed to thrive whether in global or local markets.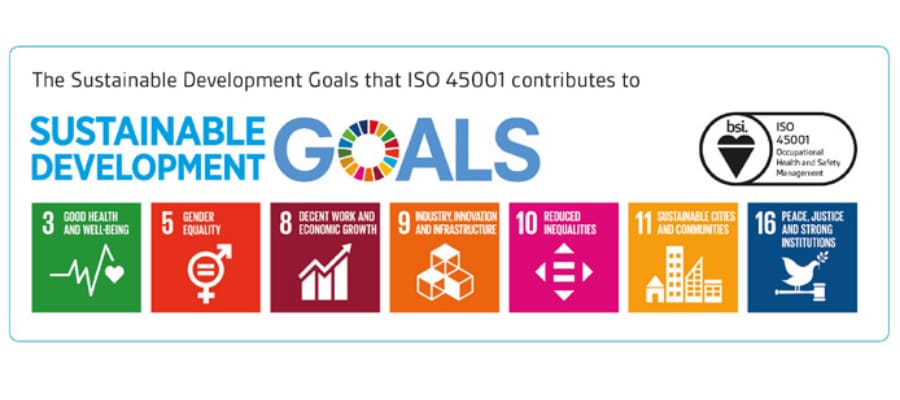 How can ISO 45001 benefit your organization?
A poor safety record can damage your business, affect employee morale and productivity, reduce revenue and impact upon quality and customers. It can tarnish your company's brand and reputation – potentially to the point where it erodes client trust for those you supply.
Added to that, organizations are now looking for ways to help them think beyond safety and accident prevention. Effective health management is a core part of ISO 45001, focussing on not just physical but mental and cognitive health too. ISO 45001 also encourages a more holistic approach, recognizing that linking with broader wellbeing initiatives can bring even greater benefits.
Being an employer who cares about the wellbeing of their employees is something that's considered particularly important by millennials who have been brought up surrounded by messages of the importance of health and wellbeing and expect similar support from their employer. In a competitive sector such as the built environment, where there are recognized skills shortages, attracting the best young talent is vital, and ISO 45001 offers a framework to enhance your recruitment and retention strategy.
Proactively managing occupational health and safety in this way will help you better protect your people, brand and business performance.
What am I missing if I don't implement ISO 45001?
By not implementing ISO 45001 you are missing out some important opportunities and benefits, including:
Protecting the workforce including the supply chain (if you manage one)
Demonstrating compliance
Bidding on contracts, especially internationally
Demonstrating commitment to the United Nations Sustainable Development Goals
Attracting and retaining talent
Enhancing workplace health and wellbeing
Enhancing and protecting your organization's reputation
And of course, providing a safe and healthy workplace free from injury and disease
For those organizations operating or trading internationally, working to ISO 45001 (the single international standard on OH&S) simplifies trade across boundaries; geographic, political, economic, commercial or social. Simplification and standardization can give you that competitive edge in the market.