BSI continues to deliver services to test and certify products to help ensure they are safe, secure and trusted whilst following government guidance to keep people safe.
Whilst client access to the testing laboratories has been extremely limited, we understand how valuable the opportunity to see your products being tested is. That's why we have invested in technology that allows our clients to continue to observe their windows and doors security, PAS 24:2016 testing online through Microsoft Teams and various other streaming means.
This service not only keeps our colleagues and clients safe, but also allows clients to continue to watch and monitor the effectiveness of their product testing remotely from their own site. Other benefits for clients include involving additional team members in the testing process, and reduced travel time and expenses.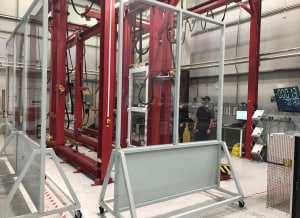 Read our client's recent experiences:
"Today, myself and my quality team were able to take part in a remote audit testing of our product. The remote witnessing process was straight forward and effective. Throughout this Covid-19 pandemic, all businesses have had to adjust their normal everyday operating procedures and evolve them in a way that improves everybody's safety. As a business we were more than happy to take part in this remote witnessing process. This not only minimises the risk to our employees and others regarding Covid-19 transmission, but also has a number of cost saving benefits such as reduced travel expenses, accommodation costs, time away from the office etc. Remote witnessing also gives others within the business the opportunity to experience the testing procedure and gain better knowledge and understanding of the process, not to mention being able to do so from the comfort of your own boardroom." Steve Bennett, SIERRA Windows
"The positives from this I can see is no need for traveling, as we are from Scotland it's not exactly a short trip down to Hemel Hempstead and back, obviously linked to this add in hotel and fuel costs, another pro I took from this is that we could get more people involved in watching the test who wouldn't normally travel down, I think this could be educational for the guys on our factory floor to see how our product actually gets tested." Scott Oswald, Scotia Windows and Doors.
Learn more about our full windows and doors solutions here.
To enquire about windows and doors testing and certification or for more information, please fill out the form below and a member of our team will be in touch.