Digitize, digitalize, digital transformation
Catalysed by the sector's mandate and subsequent adoption of Building Information Modelling (BIM), organizations have begun to explore the wider-realms of innovation as they strive to achieve a digital transformation. In doing so, terms like digitize, digitalize, and digital transformation are being used (and misused) causing confusion and uncertainty. Let's have a look at each term and what they really mean.
Digitize
digitize - transform analog forms to digital
Simply put, by making something digital, it has been digitized. For example, by scanning old drawings, documents and even taking photographs with a digital camera, the physical form has been transformed into a digital form that a machine can read.
Often this transformation is done with little thought, however a well thought out strategy can provide an organization with a myriad of benefits. For example, PD ISO/TR 13028:2010 provides guidance on how to establish a digitization procedure within an organization. Through careful consideration around properties such as format, resolution and compression a "Master Copy" is maintained in an open format with derivates produced to suit the task they will be used for.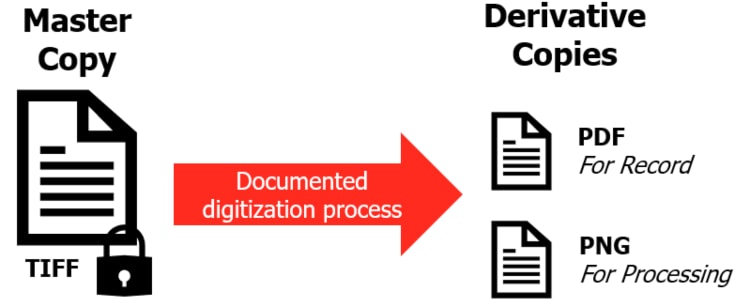 EXAMPLE: After following the guidance within PD ISO/TR 13028:2010 an organization has an established process for scanning in historic drawings. An uncompressed "Master" is saved in TIFF with a PDF derivate saved for the project archive and a PNG derivate saved for image processing and manipulation.
Digitalize
digitalize - change of process to incorporate digital technologies
Distinct from digitizing, by incorporating digital technologies into a process, it has been digitalized. For example, by applying metadata (data about data) to documents kept in your office, the process of storing, managing, and retrieving these documents has been digitalized.
As opposed to navigating through countless folders and sub-folders, documents can be found based on the information recorded against them. Standards such as BS EN 82045-2 provide a specification for what metadata could be recorded and how to record it; aligning to other standards such as BS EN ISO 7200 so that information recorded within document headers and title blocks matches the metadata being recorded.
EXAMPLE: After applying the specification within BS EN ISO 7200 an organization has created a new title block template; allowing documents to record who created, technically reviewed, and approved each document.
Now, by also applying the specification within BS EN 82045-2 the process of checking this information can be digitalized by applying this information as metadata. Not only does this allow for quicker identification and retrieval of documents but it also allows this information to be checked without having to open the document itself; providing additional time, cost and security benefits.
Digital Transformation
digital transformation - whole business transformation around digital technologies and processes
The goal, for many, is to digitally transform their organization. However, to do so there is a need to integrate new technologies and process, such as BIM, which require their own competencies and skills. An organization looking to digitally transform will likely find it difficult to integrate these new technologies and processes without support. However, by first introducing digitization and digitalization, many of the skills needed to utilize these technologies and processes, such as manipulating metadata, will have been integrated into your organization. Therefore, using best practice around digitizing information and digitalizing processes, and organization can support themselves to cross the digital chasm to achieve digital transformation.