BIM in government: Dubai's Roads and Transport Authority (RTA)
RTA was the world's first organization to achieve full BIM Level 2 Kitemark certification against all PAS and British Standards in the BIM standards suite. We spoke to Abdul Redha Abu Hassan, Executive Director, Rail Planning and Design Department and Head of the RTA BIM Committee, to find out how RTA introduced BIM, and its operational impact.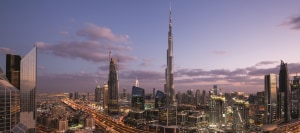 You formed the original committee to promote BIM to the wider RTA organization. Can you describe your early priorities and plans?
"We knew it had the potential to drive improved project efficiency, as well as support our smart city targets. At the time, as an authority, we lacked the means to optimally share transport infrastructure project information between all necessary parties. BIM would allow all project stakeholders to collaborate digitally from the first design stages right through to post-commissioning and ongoing operations.
In order to move towards full BIM implementation, we created a phased plan to take us from gap analysis and benchmarking to roll-out, over six stages. This became our four-year roadmap and helped engage important organizational stakeholders."
What other considerations were there?
"Conscious of the future impact of BIM internally, and on the supply chain, we began on guidance from both perspectives, creating specific policies based on PAS 1192 documentation to help each group understand BIM. The externally-focused policy also informed our employer's information requirements (EIR) documentation.
At the time, there was a lack of BIM understanding amongst the wider government and supply chain, so standardizing on requirements and specifications was critical."
How did you test and pilot BIM processes?
"Once the strategic and benchmarking phases were complete, we needed a high-profile pilot project for our new BIM processes and standards. After careful consideration, we selected the Route 2020 project. It encompasses a 15 km extension of the Dubai Metro Red Line to connect to the Expo 2020 site – an important area which includes the Al Makhtoum International Airport.
Route 2020 presented an excellent opportunity to apply BIM principles to an integrated multidisciplinary transport project. It includes elevated and underground sections, involves seven stations, and moves through communities inhabited by 240,000 people.
We also developed a bespoke common data environment (CDE) to support both capital expenditure (capex) and operational expenditure (opex) information workflows. It allowed the whole project team to collaborate over shared data in a single, common, environment structured in accordance with BS 1192 and our BIM policies."
What did you take forward from the pilot?
"The pilot demonstrated the power of consistent design quality, and optimal model and data mobility. This was particularly important for our supply chain partners, who benefitted from accelerated feedback to streamline project workflows and coordinate on deliverables.
Overall, the pilot went well, and we took key learnings forward to the next phase of test projects – this time for different forms of transport infrastructure. We also began an ongoing series of workshops held in conjunction with BSI to familiarize contractors and consultants with the implementation of the BIM system, and the advantages of a standards-based approach. We've already trained hundreds of industry representatives through these sessions.
In late 2017, we opened a BIM centre, where RTA and supply chain stakeholders meet to coordinate project updates and reviews. It uses interactive 3D asset modelling to aid collaborative decision making. Ongoing data is also stored and immediately accessible throughout the project lifecycle."
How has adopting BIM impacted your operations so far, and what do you expect from the future?
"Standardizing on BIM has already brought significant value for the RTA and our supply chain from several perspectives. It's transformed the way that multidisciplinary teams collaborate on designs.
We have estimated that BIM has brought cost reductions of up to 10%, with timesavings of 15% on average. Design changes or amendments which used to take weeks can now be settled in minutes at the BIM centre. Representatives from every stage of the lifecycle work together on digital models and visualizations. Clashes are now detected with 100% accuracy, as designs are progressed.
As we move to final BIM rollout and beyond, we are excited for the transformative potential of BIM. The industry still has several challenges to overcome around BIM adoption, but we are making great progress. Our supply chain engagement has raised awareness and familiarity with BIM requirements, and we are already seeing an evolution in the market.
We look forward to introducing ISO 19650 in partnership with BSI and feel it will be a very natural transition, given the strong foundation we have established over recent years."