Driving standards for autonomous vehicles with Project Endeavour
March 2021
Project Endeavour is part-funded by the Centre for Connected and Autonomous Vehicles (CCAV), delivered in partnership with Innovate UK. It is part of the government's £100 million Intelligent Mobility Fund, supporting the Future of Mobility Grand Challenge. As a key part of the UK government's modern Industrial Strategy, the Future of Mobility Grand Challenge was announced in 2017 to encourage and support extraordinary innovation in UK engineering and technology, making the UK a world leader in the transport industries. This includes facilitating profound changes in transport technologies and business models, to make the movement of people, goods and services across the nation greener, safer, easier and more reliable.
BSI is pleased to be part of Project Endeavour; this collaborative project will enable us to apply our expertise in standards and certification to help ensure and support the safe and secure trialling and development testing of automated and autonomous vehicles on our roads and on test tracks. We're committed to working together with the team and industry to help accelerate innovation whilst ensuring safety.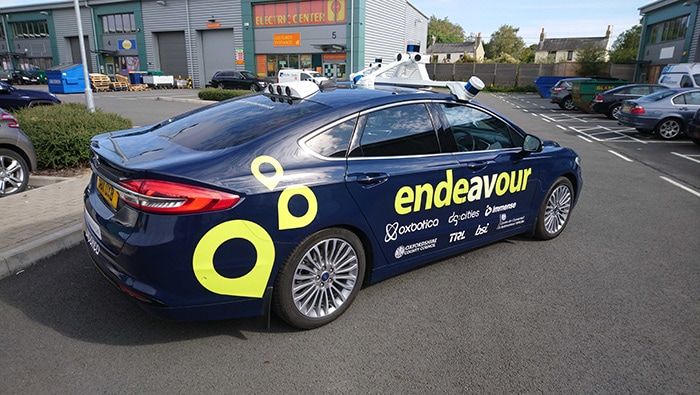 The way automated and autonomous vehicles will be tested and designed will require new tools and methods such as virtual validation using simulation, and the UK can inform global standards in this space. Over the last few years, we have been working with a range of stakeholders, including developers of automated driving technologies, to agree a consensus on best practice to ensure safety and promote public acceptance in CAVs through a series of standards in the CAV Standards Programme.
PAS 1881:2020 Assuring the Safety of Automated Vehicle Trials and Testing – Specification was developed with the intention of supporting the safe testing and trials of CAVs. PAS 1881 specifies minimum requirements for safety cases for automated vehicle trials and development testing in the UK, to demonstrate activities can be undertaken safely. This PAS (Publicly Available Specification) is relevant to stakeholders including (but not limited to) trialling organizations, local authorities, highway authorities, road operators, landowners, leaseholders, insurers, test beds and licensing agencies.
In addition, more recently we published the first taxonomy for specifying the Operational Design Domain (ODD) of an automated driving system (ADS). PAS 1883 Operational Design Domain (ODD) Taxonomy for Automated Driving Systems (ADS) – Specification is intended to help enable safe automated driving by defining a common language for describing the operating conditions, such as the environment and driving situations, an automated vehicle has been designed to function in. It is the third publication from the CAV Standards Programme, backed by the government's Centre for Connected and Autonomous Vehicles (CCAV) and delivered in conjunction with the Department for Transport, Innovate UK and Zenzic. It is intended to be used alongside other BSI standards developed to support CAV trialling and testing, such as PAS 1881 Assuring the Safety of Automated Vehicle Trials and Testing – Specification.
As a consortium partner of Project Endeavour, BSI's role now switches from standards development to assessment, from concept to real-life application. One of our expert automotive auditors kick-started the assessment of the project's safety case by cross-referencing and correlating the requirements of PAS 1881:2020 with the CCAV code of practice. This resulted in a framework of shared and specific additional requirements against which we could evaluate the safety case. Applying our best practice auditing principles and assessment scheme frameworks, we worked with our technical partner, TRL, to develop the stage one assessment criteria.
The stage one assessment was conducted over a period of three days in February 2021 in conjunction with consortium partner and autonomous software developer, Oxbotica. It was conducted via a BSI immersive audit, using remote auditing techniques that we deploy when assessing many other ISO standards, British Standards, and specific sector schemes each year. The assessment covered all the primary clauses of the PAS 1881:2020 standard, as well as sections of the CCAV code of practice. The objective was to determine whether the high-level requirements had been met and whether the level of readiness was sufficient to proceed to stage two.
During the assessment, Oxbotica was given the opportunity to present its safety case and provide objective evidence to demonstrate that the requirements had been fulfilled. As with many other standards we assess, areas of compliance and non-compliance (where relevant) are identified within our assessment report. This allows clients to fully understand the level of progress made in the safety case development and implement any necessary changes ahead of the stage two assessment.
The stage two assessment is scheduled to take place in the Autumn and will revisit any gaps in compliance identified during stage one. It will also allow the implementation of the safety case to be sampled in a live CAV trial environment. This assessment will extend to related PAS standards, including PAS 1883:2020. In parallel to this, assessment programs are currently being developed for PAS 1885 The fundamental principles of automotive cyber security specification, an area that will be critical to the CAV sector, and future CAV technology deployments.
For BSI, the project will determine the feasibility of developing an assessment methodology for the safe trailing of CAVs on public roads, by evaluating the safety cases that have been developed against the suite of standards referred to above and applying automotive industry best practice assessment methodologies. Subject to the findings of Project Endeavour, BSI plans to develop a standardized assessment scheme to support organizations involved in trialling CAVs, and ultimately help ensure public safety, not only in the UK but in the wider global automotive industry.
For more information about Project Endeavour, visit the Project Endeavour website.
For more information about how BSI is driving the mobility agenda, visit our dedicated future of mobility page.