The consequences of disruptions in an ever-evolving risk landscape
The coronavirus pandemic has shone a spotlight on the ever-evolving risk landscape and has highlighted that disruptions can have a vast impact on organizations and how they operate.
We know that preparing for the unexpected is crucial, but it is also key to recognize the consequences that disruptions can have on employees and wider operations.

Whilst organizations trust their own processes and procedures and consider incidences such as product recalls or non-occupational disease will not happen to them, this year has proven that the unexpected can happen and that organizations with robust resilience and continuity measures can thrive post-incident.
A future view
Developed with resilience professionals in mind, the BCI Horizon Scan Report examined the risk landscape for 2020, providing an overview of disruptions from the previous twelve months and future view of anticipated threats in the days, weeks and months ahead.The loss of productivity was the top-rated response when businesses were asked to rank impacts. The second highest response was negative impact on staff morale/wellbeing, which might come as a surprise to many given it is positioned ahead of customer complaints, reputation damage and loss of revenue.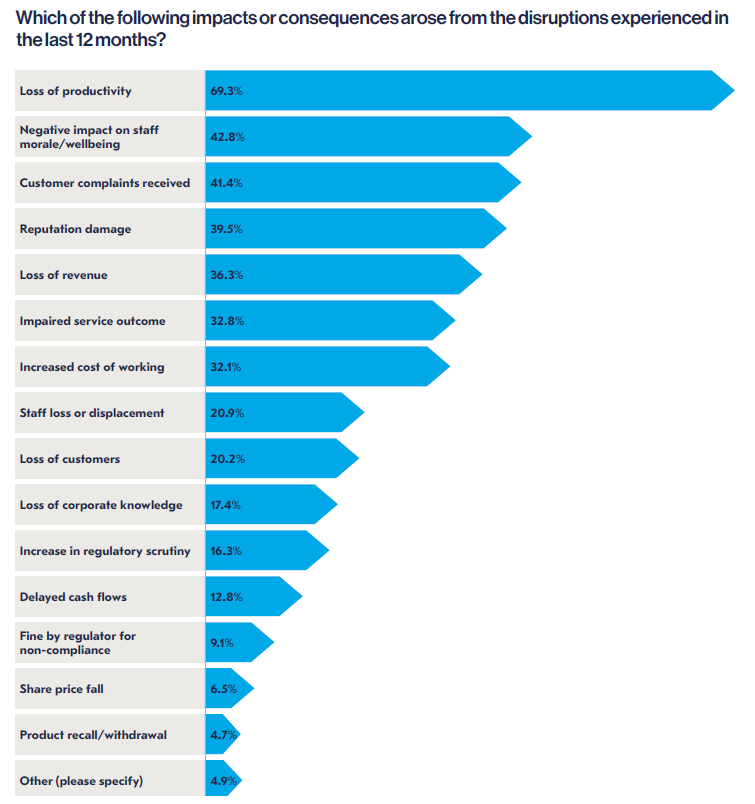 Figure . Impacts or consequences arising from the disruptions experienced in the last 12 months
Loss of productivity
• Loss of productivity is the most frequently cited consequence of disruption with 69.3% of organizations reporting this.
• The negative impact on staff wellbeing is in second place, surprisingly ahead of financial impact.
• Loss of revenue as a consequence of disruption was only cited by just over a third (36.3%) of organizations.
Christine Probett, a management and human resource professor at San Diego State University said in an article published on NBC News that "many companies focus externally only" during crisis situations and "if there is no internal communication, employees expect the worst and productivity drops significantly when employees speculate on what might happen."1 The results suggest organizations are recognizing the impact of employee morale/wellbeing on productivity.
The BCI's 2020 Emergency Communications Report highlighted how certain tools can be used during a crisis to improve morale e.g. using WhatsApp groups as a casual communication tool amongst staff during an emergency ensures staff can communicate with peers and reduce feelings of isolation 2.
Loss of revenue was only cited by just over a third of respondents (36.3%) and delayed cash flows by just 12.8% of respondents suggesting that many organizations can manage disruptions before they take a direct hit on revenues.

For smaller disruptions, this is understandable but for larger disruptions (such as the loss of a production site), the most diligent organizations will be able to move production to back-up sites to ensure continuity of service.
Communication is key
The pandemic quickly became top-of mind for organizations, with many urgently reviewing their plans for disease outbreaks as a knee-jerk reaction. As we move forward, it is important to remain aware of disruptions that businesses face every day and the ripple effect that consequences have on employees.

By delivering effective messaging to employees from senior management and promoting peer to peer communication channels, businesses could in turn see an improvement in employee productivity, wellbeing and overall performance.
You can read the full BCI 2020 Horizon Scan report here.