BSI boosts testing facilities with super rig for windows and doors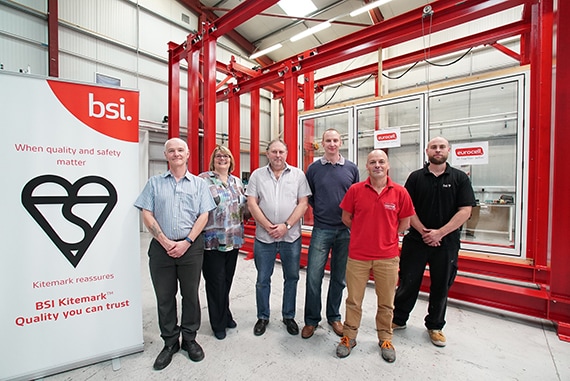 -Home of the BSI Kitemark™ reveals new test rig designed to help manufacturers bring products to market faster-
We have revealed a brand new 'Super Rig' for windows and doors testing at our Centre of Excellence based in Hemel Hempstead. The Super Rig will enable the testing of doors and windows up to six metres wide including bi-fold and sliding doors. The average size of most windows and doors is around three metres, however this has increased over the last couple of years. We are dedicated to meeting the needs of the market and subsequently developed the rig to accommodate new designs and specifications, as well as to double the testing capacity at the fenestration laboratory, helping manufacturers bring products to market faster.
The fenestration laboratory carries out various security and performance testing on windows and doorsets including mechanical, impact and endurance testing. System houses and fabricators may choose to have their windows and doors tested against the recently revised PAS 24; the publically available specification for enhanced security performance requirements for doorsets and windows in the UK. PAS 24 provides guidance on testing and assessing the enhanced security performance requirements for windows and doors, intended to resist the levels and methods of attack experienced in the UK. The BSI Kitemark™ also covers PAS 24 and therefore offers a competitive solution for meeting the requirements of Approved Document Q, demonstrating that products are high quality, durable and fit for purpose.
Eurocell is one of the first customers to have its products tested on the new Super Rig. James Rotherham, Eurocell's Design Manager commented:
"BSI's new 'Super Rig' came at the perfect time for us. It allowed us to test the maximum sizes of our new Studio Glide aluminium bi-folding door system that we are launching. We have a long standing relationship with BSI and the new 'Super Rig' will allow us to test all of our products to PAS 24 without the need to go elsewhere."
Gary Fenton, Global Product Certification Director at BSI said:
"We continue to invest in our facilities at Kitemark House to support our growing product certification business and the needs of our clients. This new rig will bring a number of benefits including the ability to test larger samples, increased capacity and reduced lead times.
"We're very proud of the 60 plus years of success we've had here at Kitemark House. The BSI Kitemark is a symbol that around 70% of the British public recognize, and one that has given millions of Britons over the last century the knowledge and comfort that the products they come into contact with are safe and reliable."
For more information, please visit https://www.bsigroup.com/en-GB/our-services/product-certification/industry-sector-schemes/construction/windows-and-doors/certification-schemes/