Leveraging Supply Chain Intelligence to Assess Food Supply Chain Risks
31 May 2017
BSI Supply Chain Services and Solutions has announced the release of its new food safety and fraud intelligence and assessment management modules. This new module was developed to help the food industry take a proactive approach to mitigate potential threats that could affect their customers, brand and bottom line. The new modules allow users to monitor and assess the threat of food contamination, food adulteration, mislabeling, recalls and otherwise deceptive food and beverage products.
BSI's web-based intelligence solution, Supply Chain Risk Exposure Evaluation Network (SCREEN), has launched two risk indicators, food safety and food fraud, that provide threat ratings for 200+ countries along with interactive risk maps and qualitative reports. SCREEN's Food Module provides insight into food safety and fraud risks as well as global security, corporate social responsibility and business continuity threats and trends that could impact the food supply chain. BSI's SCREEN Food Module provides real-time updates regarding food-related incidents, such as contamination, food fraud, food safety, forced labor, natural disasters, theft, smuggling and more, to help users monitor and proactively manage potential supply chain exposures.
SCREEN recently reported that Brazilian authorities indicted 63 individuals for their role in a tainted meat scandal, charging agricultural inspectors, sanitary inspection agents and employees of the meat companies with corruption, the production of fraudulent food and other crimes. The indictments come as a result of a federal police investigation into the tainted meat scandal that saw multiple countries temporarily halt imports of Brazilian meat. This is an example of the type of information supply chain practitioners in the food industry will be able to access to have transparency into the risks associated with this industry. Users are able to utilize this type of information to ensure they have the preventative measures needed to protect themselves and their customers.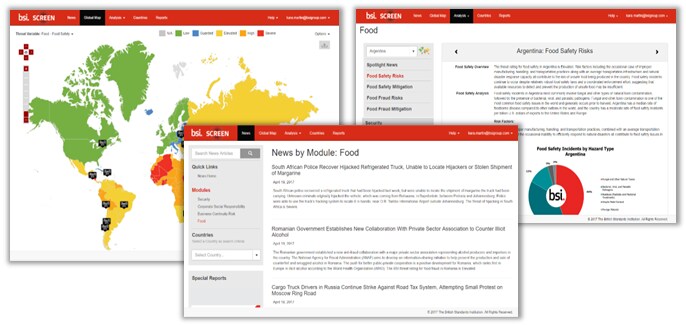 To download a sample SCREEN Country Risk Report containing an excerpt of our food safety and fraud intelligence, click here.
In addition to this robust intelligence offering, BSI has released a Supplier Compliance Manager (SCM) Food Module to help food manufacturers and retailers assess the quality, safety and security of their supply chain and business partners. SCM is BSI's web-based, automated assessment management solution that allows users to fully manage the assessment process from beginning to end. SCM provides a single solution to manage self-assessments, on-site audits, corrective actions, communications and more along with a robust dashboard to track program progress year over year. SCM provides off-the-shelf templates based on the available Food Safety Modernization Act (FSMA), Hazard Analysis and Critical Control Points (HACCP), Threat Assessment Critical Control Point/Vulnerability Assessment and Critical Control Points (TACCP/VACCP) criteria, as well as other Food Standards Agency (FSA) and Food and Drug Administration (FDA) checklists. The templates are fully customizable to allow users to tailor the assessments to meet their needs. SCM's unique assessment method incorporates SCREEN's geographic risk intelligence into the process to provide users with a holistic, risk-based view of their business partners.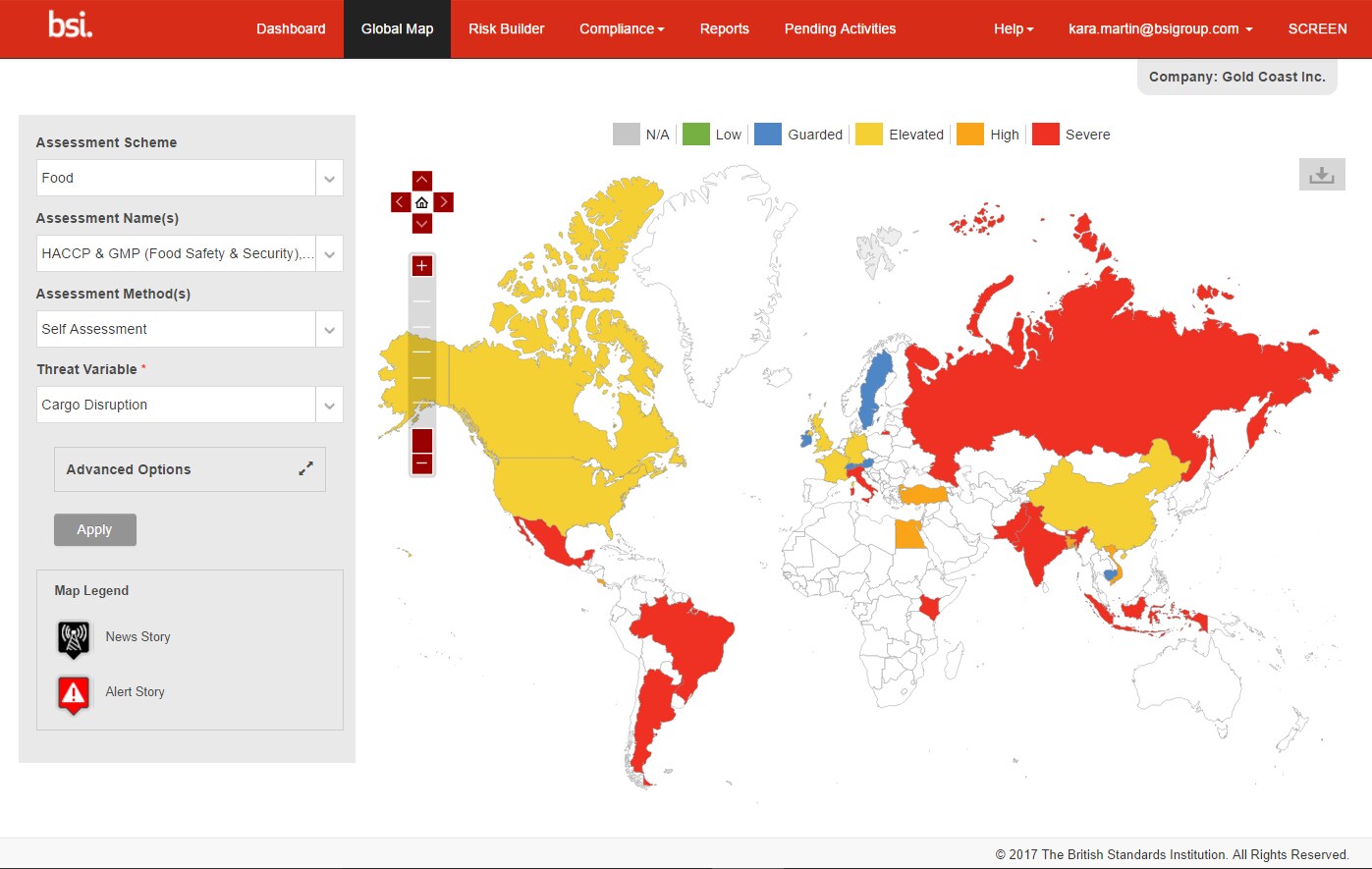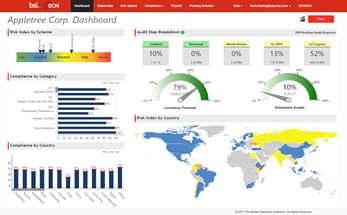 BSI's SCREEN and SCM solutions will bring the food industry unparalleled visibility into supply chain food risks equipping organizations with the knowledge needed to proactively mitigate risk throughout their entire supply chain.
These solutions are part of a broader BSI risk management suite, including global auditing and advisory services. Our global network of experienced auditors and subject matter experts work with our clients to help them better understand their supply chain and proactively identify and address vulnerabilities. Along with food, BSI specializes in supply chain security, corporate social responsibility, business continuity intelligence and risk mitigation. Together our solutions and services provide end-to-end support to help protect your supply chain, brand and reputation.
To learn more about BSI's new SCREEN and SCM Food Modules, visit our website or contact us directly to request a demo.
- Ends -
Notes to editors:
About BSI
BSI (British Standards Institution) is the business standards company that equips businesses with the necessary solutions to turn standards of best practice into habits of excellence. Formed in 1901, BSI was the world's first National Standards Body and a founding member of the International Organization for Standardization (ISO). Over a century later it continues to facilitate business improvement and organizational resilience across the globe by helping its clients drive performance, manage risk and grow sustainably through the adoption of international management systems standards, many of which BSI originated. Renowned for its marks of excellence including the consumer recognized BSI Kitemark™, BSI's influence spans multiple sectors with a particular focus on Aerospace, Automotive, Built Environment, Food, Healthcare and IT. With 86,000 clients in 193 countries, BSI is an organization whose products and services inspire excellence across the globe.
To learn more, please visit www.bsigroup.com
BSI Supply Chain Services and Solutions
BSI Supply Chain Services and Solutions empowers organizations to strengthen their supply chain transparency, and agility through intelligence-based, risk and compliance management services and solutions. Our services and solutions help organizations identify and assess areas of vulnerability, and develop scalable due diligence programs to build resiliency and protect their supply chain, brand and reputation. Our holistic risk management portfolio enables organizations to proactively identify enterprise supply chain risks and prioritize operational exposures, strengthen resiliency by developing risk-based mitigation and compliance programs, and minimize the impact of disruptions and reduce potential for financial losses.
To learn more about BSI's Supply Chain Services and Solutions, visit our website at www.bsi-supplychain.com