BSI has supported iPRO Solutions in achieving recent certification to three key international standards, supporting its business growth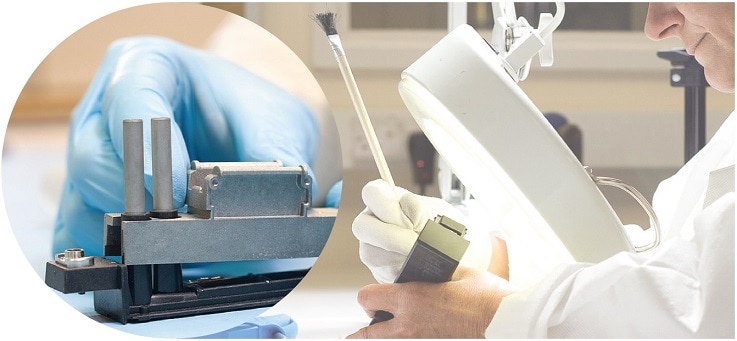 iPRO Solutions is a leading global sourcing, supply chain and logistics business, specializing in the provision of precision-engineered components to manufacturing industry. With its headquarters and a manufacturing hub in Buckinghamshire, plus offices across Asia, the company is growing fast.
Underpinning iPRO's expansion is certification to three key international management system standards: the quality management standard ISO 9001, the environmental management standard ISO 14001 and, most recently, the aerospace quality management standard AS/EN 9120. iPRO has achieved BSI certification to all three standards in just 18 months, helping it drive quality, sustainability and business growth.
Benefits of certification
ISO 9001 lays a solid foundation for high quality business processes
ISO 14001 strengthens environmental measures, boosting efficiency and sustainability
AS/EN 9120 drives best practice in the aerospace industry
Multiple certification creates a robust framework for business growth, and meets tender requirements
Certification to AS/EN 9120 strengthens entry into the aerospace market as a hub logistics provider
Knowledge gained ensures excellence from suppliers
Ongoing focus on continuous improvement and industry best practice
Business background
iPRO Solutions specializes in supplying precision-engineered components to manufacturing industry, working in particular with plastics, metals and electronic commodities. Its varied client portfolio ranges from the UK's leading electric vehicle charge point manufacturer to a cutting edge R&D-led scientific analysis company specializing in molecular sensing systems.
iPRO covers the European marketplace from its UK HQ at Haddenham in Buckinghamshire, while offices and iPRO teams in China, Malaysia and India complement this. In 2013 it expanded by launching a new 10,000sq ft facility at Haddenham, maximizing the benefits of its low cost global sourcing by adding UK-based, high quality, bespoke assembly services. Since then, the company has doubled its staff to around 80 and grown annual sales to £16.8m.
---
Why certification?
David Lever, Quality Manager, iPRO Solutions, explains the rationale behind ISO 9001. "We went for it from the start because it's clearly the leading industry standard for quality management systems," he says. "It gives us a really strong foundation to support the growth we're experiencing. In particular, it enables us to pitch for new business, because many organizations now make it a mandatory requirement when tendering."
In the case of ISO 14001, Lever says the initial catalyst was a request from a major customer. "They needed us to have it in order to go for a government contract," he says. "But since then it has given us great value in terms of helping us manage our environmental impact. The standard provides a clear structure, leading to reduced waste and cost savings – and certification has strengthened our 'green' credentials."
Most recently, in September 2016, iPRO Solutions applied for AS/EN 9120, the internationally recognized quality management system for stockists and distributors in the aerospace industry. As Tony Wall, iPRO Solutions CEO, explains: "Although aerospace is a difficult market to penetrate, provided you can sustain your quality mechanisms the commercial opportunities are compelling. When I joined the business in mid-2016 I felt we would be missing a trick if we didn't go for the standard."
AS/EN 9120 helps organizations continually improve, focus on meeting customer requirements, and ensure customer satisfaction. For iPRO, an important driver for certification was requests from potential customers in the aerospace industry. "Although they liked our proposition, we didn't have the certification to follow those tenders through and win them," says Wall. "It was clearly a hurdle we needed to jump."
---
Implementation and support
iPRO's certification journey has been well supported by buy-in from the whole management team, as part of the company's three-year business strategy. It has also been underpinned by its strong company culture, which is founded on seven core values: customer focus, integrity and honesty, teamwork, ownership, quality, valuing people, and effective communication.
In early 2015, iPRO changed its certification partner, appointing BSI, at that stage to audit and update its certifications to ISO 9001 and ISO 14001. "We decided to consolidate our management systems under one certification body," says Lever. "We chose BSI because it offered us much better value for money in terms of the depth of its evaluation of our management systems. BSI is clearly the industry leader in this field and helped us get as much value as we could out of the process."
---
The aerospace challenge
The implementation of AS/EN 9120 posed the challenge of being both new to iPRO and also part of a recently revised series of aerospace quality management system standards, AS/EN 9100/9110/9120:2016.
To iPRO's advantage, the series builds on the latest version of ISO 9001, which was updated in 2015 to include a High-Level Structure. This features terms, definitions, headings and text common to all management system standards, and allows for easier integration when implementing multiple management systems.
"The first thing we did was get BSI in to conduct a Gap analysis," says Lever. "That gave us a lot of guidance about which areas we needed to work on. We had many of the necessary systems in place already, partly because of the affinity of AS/EN 9120 with ISO9001, but we needed to add a level of detail to our reporting and documentation."
He continues, "We then did some excellent external training with BSI, which we brought back and cascaded internally throughout the business. This was highly effective in ensuring we had the level of knowledge needed."
The standard brought specific requirements. For example, says Lever, "We had to invest in a new measuring machine to meet exacting specifications for aerospace products, and we had to change the way we manage our components in the warehouse. We also had to reorganize our supply base, putting new requirements on suppliers and policing them for non-conformance."
In October 2017, following a readiness review and a thorough audit by BSI, iPRO Solutions successfully achieved formal certification to AS/EN 9120 – its third BSI certification in an 18-month period.

---
Benefits
iPRO's strategy of multiple BSI certifications has paid off, providing a framework for continuous improvement in quality and environmental issues – together with a focus on the specific requirements of the aerospace sector.
Relatively inefficient 'organisation-unique' processes have been reduced or eliminated in favour of consistent processes. In the case of AS/EN 9120, for example, Lever points out that "The audit process tests all our business processes, and our certification demonstrates our capability to procure parts, materials and assemblies, and resell these products to customers in the aviation, space, and defence industries."
Wall adds, "There's no doubt our standards are driving the right behaviours. They help us raise the bar on ourselves, to ensure our people, our training and our processes were where they need to be."
He concludes, "Ultimately, all three certifications are about managing risk. When we're making proposals to customers, we need to be confident that we're safe in doing so. BSI's audit processes ensure that our policies and procedures are robust."

---