Construction products - certification services
When it matters most, trust the BSI Kitemark™.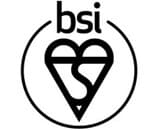 We understand the constant pressure manufacturers face to be more innovative than competitors, while creating products with greater efficiency, sustainability, and to get them to market as quickly and as safely as possible.
We can help your business gain a competitive advantage, attract new business, and increase market share by matching your innovation in manufacturing with innovation in the BSI Kitemark.
Exclusive to BSI, the BSI Kitemark is a quality mark that shows a construction product or service meets the applicable and appropriate British, European, international or other recognised standard for quality, safety, performance and trust.
This has helped our clients to differentiate themselves from their competition, to prove their product is reliable and safe, and given them enhanced efficiency and trust in their products out in the marketplace.