First ten companies achieve conformity to the new international standard for occupational health and safety
12 March 2018
CBRE GWS EMEA, Colas Rail Ltd, EMCOR UK, Eurovia UK, Interserve, Morgan Sindall, OKI UK Ltd, OPG, Overbury and Ringway Jacobs are the first ten UK and worldwide companies to have been independently assessed by BSI and achieve conformity to ISO 45001 Occupational Health & Safety.
The new international standard, which is now published, replaces OHSAS 18001 and sets out the requirements for those organizations who wish to create and maintain a safe and healthy working environment for all. BSI has engaged with each of the ten clients who have been through a rigorous assessment programme to the FDIS (Final Draft International Standard) and a further review against the actual publication of ISO 45001.
OHSAS 18001 has already helped numerous organizations of all sizes successfully identify and manage occupational health and safety risks and hazards within their business. The new international standard has been developed in order to take in to account today's business requirements. It's the first ISO for Occupational Health and Safety, so for those organizations that operate or trade internationally, working to a single international standard could help to simplify their business.
Whilst some of the requirements within OHSAS 18001 have been retained in the new standard, ISO 45001 uses a high level structure (HLS) - featuring terms, definitions, headings and text common to all management system standards - allowing easier integration when implementing multiple management systems. For example, ISO 9001 Quality Management and ISO 14001 Environmental Management. Some of the other changes include a strong emphasis on leadership, risk-based thinking as well as participation and consultation of decision-makers and workers to ensure the management system covers what is needed and is communicated effectively to all involved.
Organizations currently certified to OHSAS 18001 will have three years to migrate to the new standard.
Richard White, QHSE Director CBRE GWS EMEA commented: "Health and safety is of paramount importance to us a business and for our clients. As such we're delighted to have successfully met the requirements of the new standard and to have done so from day one of its existence. This was a truly a team effort and one that demonstrates the criticality of effective health and safety management to our business."
Paul Taylor, Safety & Sustainability Director at Colas Rail said: "Colas Rail is very proud of achieving compliance to ISO 45001. This has not only helped us enhance our health & safety management system but also puts Colas Rail in an elite category of businesses that meet the level of excellence recognized internationally".

Keith Chanter, CEO, EMCOR UK, commented: "Achievement of conformity to ISO 45001 Occupational Health & Safety with BSI represents continuation of a key strategic objective for EMCOR UK. Creating and maintaining safe and healthy working environments, underpins EMCOR UKs approach to working collaboratively with customers in fulfilling their strategic and operational requirements and providing the way in which we tailor integrated facilities management services to these needs. EMCOR UK is delighted to be one of the first companies in the world to achieve conformity to the new health and safety standard, continuing to strengthen our position as a leader in collaborative business relationships."
David Campbell, Eurovia UK's Group Director of Health, Safety and Environment, commented: "This early achievement of ISO 45001 firmly establishes Eurovia UK as pioneers within our sector. It demonstrates the emphasis, importance and commitment we place on health and safety across our businesses. "We are delighted that our strong leadership values around health and safety have been officially recognized, but achieving compliance with the standard on the very day it is published demonstrates that these have been in place at Eurovia UK for many years already. In being one of the first to achieve ISO 45001, Eurovia UK has set the benchmark for others to follow."
John Stokes, Head of Business Process Management at Interserve said: "As a business that employs over 80,000 worldwide, we place safety at the forefront of what we do. We are proud to be one the first companies to achieve compliance to the ISO 45001 standard. We will continue to eliminate risks in the workplace and strive to build a culture where quality, safety, health and the environment underpins the values of all stakeholders in achieving an incident and injury free environment."
Martin Worthington, SHEQ Director at Morgan Sindall commented: "Achieving high standards in occupational health and safety is critical to the success of our business at Morgan Sindall, so to be one of the first organizations to achieve conformity to this new standard is an incredibly proud moment for us. It is testament to the commitment our people have given to improving and maintaining the wellbeing of each and every person working across our organization."
Scott Thomson, Operations Manager at OKI UK said: "OKI UK is proud to be one of the first companies to achieve compliance with the new ISO 45001 standard. This recognizes our efforts and behaviours ensuring that our manufacturing site is a safe and healthy workplace."
Alan Watson, General Manager at OPG Ltd said: "BSI has worked closely with OPG over the years to certify our integrated management system which remains the bedrock of our business improvement model. BSI gives us confidence that it remains fit for purpose through their expertise, diligence and integrity. OPG transitioned early to ISO 9001:2015 and ISO 14001:2015, from the previous standards; it naturally followed that we'd be an early adopter of ISO 45001 to glean the benefits and advantages it brings to our IMS."
Paul Brazier, Commercial Director at Overbury PLC said: "At Overbury, health and safety remains our number one priority and we are fully committed to the new ISO 45001 standard. It fits with our strategy to use technology to encourage an open and empowered culture, enabling our staff, clients and supply chain to continually raise the health and safety bar. We are proud to have been on this journey with BSI and observe how the new ISO 45001 standard has improved our health and safety practices across our business."
Mike O'Neill, Ringway Jacobs' Managing Director said, "Ringway Jacobs is extremely proud to achieve conformity to ISO 45001 on its first day of publication. We are delighted that we are one of the first organizations in the UK and worldwide to have successfully achieved the standard, which is recognition of our dedicated commitment to health, safety and wellbeing across the business."
Anne Scorey, UK Managing Director at BSI commented: "Achieving conformity to the new international health and safety standard will bring huge benefits to organizations of all sizes and sectors – it will help businesses to provide a safe and healthy workplace for workers and other people, reduce work-related injury and ill-health as well as continually improving OH&S performance and enhancing organizational resilience.
"CBRE, Colas Rail Ltd, EMCOR UK, Eurovia UK, Interserve, Morgan Sindall, OKI UK Ltd, OPG, Overbury and Ringway Jacobs should be delighted that they are the first to achieve conformity to the standard with BSI."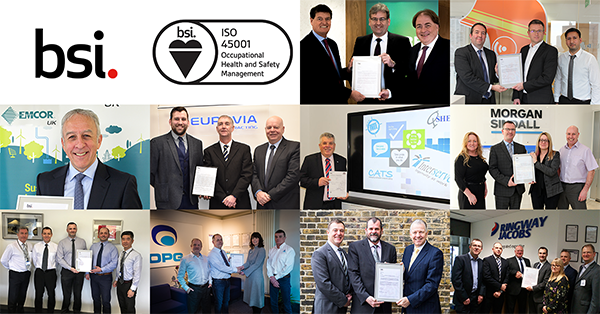 - ENDS –