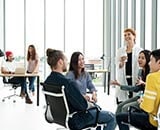 Diversity, equity and inclusion
BSI has an unwavering commitment to diversity, equity and inclusion and this is reflected in everything that we do. It is fundamental to our values, principles and the work we do to make a positive impact on our world. We are resolute in our support for social justice and its pivotal role in our culture to drive progress for our society.
Making excellence a habit for our clients requires us to consider our broader responsibilities to our colleagues, business partners, and community by fostering equity and a culture of inclusion.  Our commitment to a safe, secure and sustainable future is empowered by bringing diverse backgrounds and views to ideate and innovate on how to tackle the challenges we confront as a society. Diversity, equity and inclusion (DEI) is everyone's responsibility – and is a foundational component of our value system as an organization.