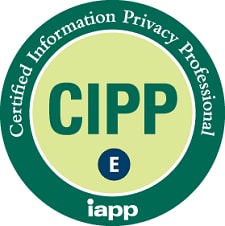 Get global recognition as a data protection professional with our Certified Information Privacy Professional Europe (CIPP/E) course. This 2-day training course encompasses pan-European and national data protection laws, key data protection terminology and practical concepts concerning the protection of personal data and trans-border data flows.
Achieving a CIPP/E credential shows you have the comprehensive GDPR knowledge, perspective, and understanding to ensure compliance and data protection success in Europe - and to take advantage of the career opportunity this sweeping legislation represents.
**Exam Fee Included
Duration: 2 days
Price: $2,295
To register or for more information, contact us.
How will I benefit?
You'll have an enhanced understanding of jurisdictional laws, regulations and enforcement models, rules and standards
Feel confident with the essential privacy concepts and principals and legal requirements for handling and transferring data
Be familiar with the key areas of CIPP/E required for the exam
You'll have the practical experience to apply concepts and achieve a best practice privacy program
Be skilled to help your organization have resilience with personal data management and data flow between different countries
This course is designed for anyone whose work is related to the processing of personal data, particularly those in the public sector and from EU institutions, agencies, and bodies, including:
Data Protection Officers
Data Protection Lawyers
Compliance Officers
Information Officers
Record Managers
Human Resources Officers
Data Protection Professionals
Anyone who uses, processes, and maintains personal data
Module 1:

Data Protection laws

Module 2:

Personal data

Module 3:

Roles and relationships of controllers and processors

Module 4:

Processing personal data

Module 5:

Information provision

Module 6:

Data subjects' rights

Module 7:

Security or processing

Module 8:

Accountability

Module 9:

International data transfers

Module 10:

Supervisions and enforcement

Module 11:

Compliance
1 year's IAPP membership
Lunch (in-person trainings)
Refreshments
Comprehensive course notes
A certificate of attendance
CPD points*
Exam costs included**
**Please note: that whilst exam costs are covered within the fee of this course, you will need to book your exam via the IAPP website.