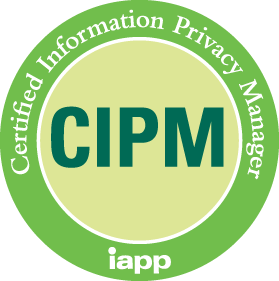 If you're building a career in Data Protection and Privacy this IAPP certified CIPM 2 day course is the must-have course and qualification to help you progress. It is a globally recognized standard certification and course which demonstrates your competence as a DPO
As part of our course, delegates will be provided with authorized training materials, certification exam voucher, sample exam questions, and 1 years IAPP membership providing access to IAPP supplementary materials and Data Protection / Privacy-related resources online.
Our accelerated 2-day course covers topics:
Introduction to privacy program management
Privacy governance
Applicable laws and regulations
Data assessments
Policies
Data subject rights
Training and awareness
Protecting personal information
Data breach incident plans
Monitoring and auditing
Through participation in our course taught by industry-leading trainers, you will gain the knowledge to understand and best manage personal data in organizations.
Duration: 2 days
Price: $2,295
To register or for more information, contact us
How will I benefit?
This course and professional certification will provide you and your organization a competitive advantage in the marketplace, through attending this course and earning the CIPM certification:
You will be recognized as an experienced privacy program manager
Gain the confidence to interpret privacy regulations and make them work for an organization
You will develop the expertise to establish, maintain and manage a best-practice privacy program across all stages of its lifecycle, aligned to globally accepted standards, to ensure that your organization complies with regional data protection and privacy legislation
Gain the necessary knowledge and skills required in order to prepare for the IAPP CIPM certification exam
This training course is ideal for experienced Data Protection Officers, security practitioners, managers and executives and others interested in improving their knowledge across a wide array of Data Protection and Privacy related practices and principles. Common roles to attend our IAPP CIPM courses include:
Data Protection Officers
Data Protection Managers
Compliance Professionals
Information Managers
Auditors
Security Managers
Anyone involved with data protection processes and programs
This training course provides candidates with the knowledge and expertise in privacy and data protection governance, principles, program development, management and monitoring, applicable laws and regulations, data management and incident response along with auditing and analysis of existing programs by covering an extensive review of the concepts and industry best practices, based on the 10 modules from the official supplied IAPP courseware to include:
Introduction to privacy program management
Privacy governance
Applicable laws and regulations
Data assessments
Policies
Data subject rights
Training and awareness
Protecting personal information
Data breach incident plans
Monitoring and auditing
The following are included with the course:
Comprehensive IAPP CIPM Materials
Additional notes and resources
Sample Exam questions
Certificate of attendance
Exam Voucher*
1-year membership with IAPP for online resource access and updates
Lunch (classroom-based classes)
On completion of this course, you will be awarded a Certificate of attendance and after completing the required IAPP CIPM exam along with fulfilling the application process with IAPP you will be certified as an IAPP CIPM (Certified Information Privacy Manager)
*Please note that whilst exam costs are covered within the fee of this course, you will need to book your exam via the IAPP website