Certified in Risk and Information Systems Control
Our CRISC training course, in association with ISACA, prepares IT professionals for real-world threats with relevant tools to assess, govern and mitigate risk.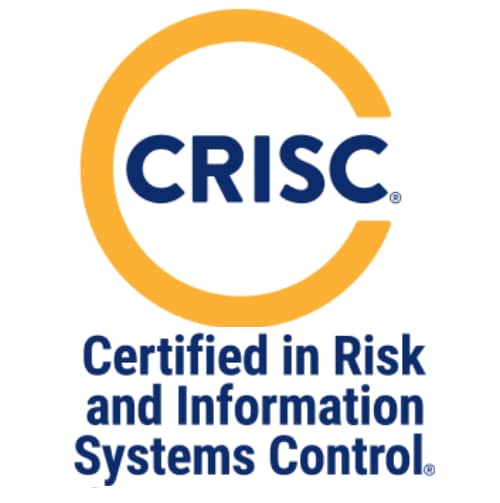 This four-day course will improve your knowledge of IT risk management and its impact on business and prepare learners to pass the ISACA CRISC exam.
The CRISC designation and course is designed for IT risk, control, and compliance practitioners, business analysts, project managers, and other IT and business professionals. The highly respected certification demonstrates to employers that the holder is able to identify and evaluate IT risk and help their enterprise accomplish its business objectives. CRISC has received over 15 global recognitions.
Duration: 4 days
Cost: $2,595
Who should attend?
IT Risk Management professionals
Control and Assurance Professionals
Project Managers
CIO's, CISO's and other Enterprise Leadership roles
What will I learn?
Understand how to identify assess and evaluate risk
Understand types of risk response and be better equipped with the knowledge of how to respond to risk
Develop the skills in order to monitor and maintain risk in accordance with the organization's risk appetite levels
Prerequisites
The CRISC training course is designed for IT and other business professionals who are involved at any level to identify and or mitigate risk, it is, therefore, an advantage to have an understanding of the business, technologies, and controls.
In order to obtain the ISACA CRISC credential, you must

Pass the CRISC exam
Adhere to ISACA's code of Ethics
Adhere to ISACA's Continuing Professional Education (CPE) policy
Have a minimum of 3 years work experience across at least 2 of the CRISC domains, with at least one covering domain 1 or 2
The course covers all four CRISC domains with each corresponding to a specific CRISC job practice. (Revised 2021) Domains and percentage of exam coverage below
Domain 1 - Governance (26%)
Domain 2 – IT Risk Assessment (20%)
Domain 3 - Risk Response and Reporting (32%)
Domain 4 – Information Technology and Security (22%)
What's included?
Instructor-led live online or classroom-based training
ISACA certification review manual
ISACA online practice question and answer database access