BSI Drone Services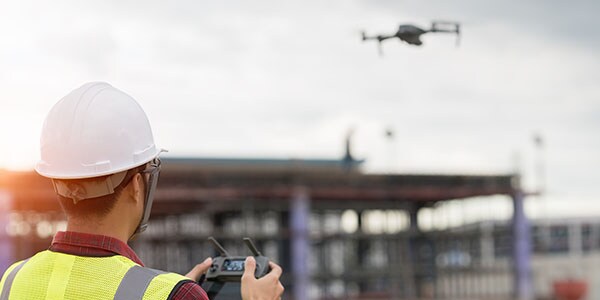 UAVs Improve Safety, Accuracy, and Efficiency
BSI incorporates the use of Unmanned Aerial Vehicles (UAVs), more commonly known as drones, to provide a greater depth of information and transparency during inspections and audits and the ability for clients to make better data-driven decisions. Common uses for drone technology include performing risks assessments, site inspections, and detailed data acquisition. Not only do drones add greater flexibility and improved accuracy, they also increase safety for auditors and clients by removing the need for individuals to be put in hazardous situations and speed up the time needed to perform inspections.
Cutting Edge Technology
BSI has partnered with a leading provider in the field of 3D modeling services, vScenario, to provide state of the art imaging to our clients. Using cutting-edge software, BSI uses high-resolution orthomosaic imaging to analyze the site and provides clients with a detailed analysis and log of issues, incidents, and compliance gaps within their operations.
Safer Audits and Inspections
Traditional physical assessments come with risks, such as hazard exposure. In many cases, drones can access tight confines, high altitudes, and potentially toxic locations easily and efficiently, while, at the same time, reducing employee exposure to potential hazards. The safety of our assessors and clients is paramount in all that we do. By using drone technology, we can ensure the safety of our, and the client's, personnel.
Real-World Examples
Drones fitted with a sensor can measure and report emissions and path determination near a factory chimney stack or other industrial areas; a task that would otherwise require the building of scaffolding or the use of a boom truck, both of which increase risks to the inspectors.
Drones are effective for conducting site-wide assessments; the Occupational Safety and Health Administration (OSHA) announced last year that it will incorporate the use of drones for conducting safety assessments as part of a new policy to improve workforce safety. BSI embraces enhanced safety for our employees and clients, and utilizes drones to inspect hazardous or hard-to-reach areas in order to gather more precise data in a safe and efficient manner.
Drones are useful for capturing large surface areas, such as a palm oil field, and track deforestation in real-time to ensure farmers and suppliers are complying with sustainable practices. A thermal camera attached to the drone can also monitor and analyze the health of crops. With the assistance of drone technology, BSI can ensure palm oil and other agriculture practices are deforestation free and are aligned with the UN's Sustainable Development Goals.
Drone technology is digitizing the construction sector; vScenario technology can collect and compile large data sets on sites throughout the design process with radar that can penetrate the ground in order to create a precise 3D model.
BSI's Top 5 Uses for Drones
1. Safety services
a. Enhance employee safety
b. Perform risk assessments
c. Identify hazards that may have, otherwise, gone undetected
d. Assessing inaccessible locations (e.g. bridges, turbines, towers, etc.)
e. Perform accident investigations
2. Construction
a. Planning
b. Progress updates
c. Post-construction anomaly detection
d. Progressive utility mapping (reduces utility-location time)
e. Inspect remote or hazardous areas
f. Roadway inspections
3. Environmental
a. Stormwater assessments
b. Agricultural anomaly detection
4. Emergency preparedness/response
a. Evacuation planning
b. Threat assessments
c. Post-disaster site evaluations
d. Active-emergency assessments (e.g. active fire, flooding, confined space entrapment)
5. Regulatory compliance
a. HMBP mapping
b. Pre-OSHA/EPA inspection assessment (OSHA now uses drones for safety inspections and partners with EPA)
c. Accurate measurements (e.g. fall hazard distance requirements, etc.)
Benefits of Drone Usage:
Employee safety, reducing hazard exposure.
Real-time imagery with greater detail and accuracy than satellite images.
Tailored imagery, capturing additional angles and area-specific data as needed.
Results are recorded for future use and analysis