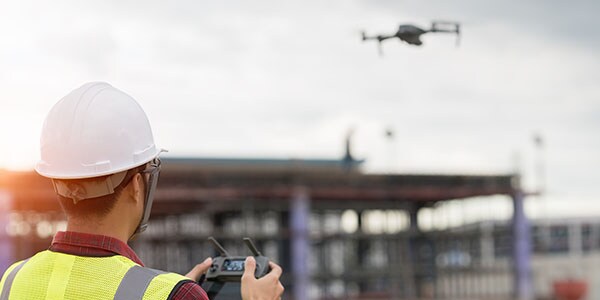 BSI harnesses drone technology for clients
Partners with vScenario to provide 3D modelling services
BSI, the business improvement company, is now incorporating the use of drone technology as part of its assurance and professional services offerings. To help deliver this service, BSI has partnered with vScenario, an innovator in the field of 3D modelling services.
By utilizing the latest drone technology and 3D modelling, BSI will be able to collect and provide highly detailed data—such as inspection reports, real-time video footage, 2D or 3D maps, hi-res pictures, thermal/infra-red images, or gas/chemical/liquid sensor analysis—allowing clients the ability to make data-driven decisions. At the same time, the use of drones can mitigate the need for assessors, and clients, to enter dangerous locations or situations.
A few of the areas where BSI can use drones to assist with client needs are:
Visual plotting of high-risk areas
Environmental audits
Post disaster event evaluations and assessments
Remediation site monitoring and digitization of clean up progress
Monitoring of energy systems (e.g., surveying solar panels for cracks and exposed components and measuring CO2 emissions)
Construction site progress and comparison assessments
Agricultural commodity uses such as the monitoring of crops and encroachments of pollutants, ensuring sustainable practices, etc.
Dan Purtell, Director of Innovation at BSI stated: "Drones are rapidly transforming the way people gather information to make informed and timely decisions. By using drone technologies, not only does it enhance, and in many cases simplify, existing survey processes, but it also allows us and our clients to work smarter and safer."
For more information about BSI's drone services, click here.
- ENDS -
About BSI
BSI is the business improvement company that enables organizations to turn standards of best practice into habits of excellence. For over a century BSI has championed what good looks like and driven best practice in organizations around the world. Working with 84,000 clients across 193 countries, it is a truly international business with skills and experience across a number of sectors including aerospace, automotive, built environment, food, and healthcare. Through its expertise in Standards Development and Knowledge Solutions, Assurance, Regulatory Services and Professional Services, BSI improves business performance to help clients grow sustainably, manage risk and ultimately be more resilient.
To learn more, please visit: www.bsigroup.com