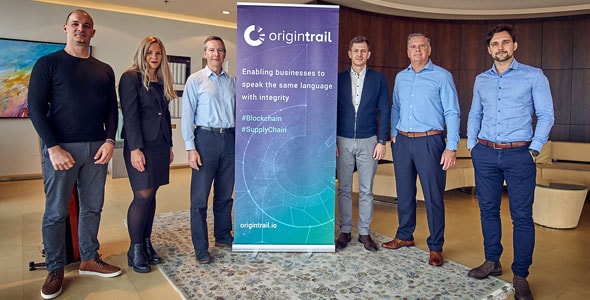 OriginTrail develops blockchain-enabled solutions
BSI, the business standards company, has exclusively partnered with OriginTrail to deliver blockchain-enabled solutions that will enhance its global assessment, certification and supply chain services to confirm the provenance of goods and/or the integrity of digital records or services.
With the movement of goods and services around the world reaching unprecedented levels and global supply chains becoming increasingly interconnected, complex supply chains demand trust. Organizations and consumer alike want to know that they can trust the integrity of the claims that manufacturers and suppliers make regarding employee work conditions, security compliance, the origins of materials used, the authenticity of their products, along with the health and ethics labels such as 'organic', 'local' or 'responsibly sourced'.
Building on BSI's expertise in compliance, assessment and certification with OriginTrail's blockchain-enabled technologies, they will work together to develop solutions that will help organizations prove the integrity of their global operations and that their product and/or services claims are real, have been verified and can be trusted. This type of blockchain application will be particularly relevant to the food, healthcare and built environment (digital buildings and smart cities) sectors due to being highly regulated industries and the complexity of their supply chains.
The aim of this partnership is to help clients to:
Comply with regulation and standards
Meet customer expectations concerning products features and claims (safety, quality and other attributes)
Manage business risk, product quality and reduce the cost of non-conformities
Be able to effectively manage product recalls with near-real-time corrective action
Extract more value out of data already generated in global supply chains
Howard Kerr, Chief Executive of BSI said: "In today's increasingly interconnected world, transparency and traceability throughout the supply chain is vital. This strategic partnership aims to provide our clients with the ability to demonstrate the authenticity of their compliance through the digital records of the assessments and certifications they have achieved from BSI. Ultimately building trust and confidence as consumers and business partners can easily verify the provenance of the goods and/or services they are buying."
Tomaž Levak, OriginTrail's co-founder and CEO, said: "We are glad that BSI has recognized the potential of blockchain technology to improve the integrity in the often opaque global supply chains, helping increase product safety, protect brands, and decrease risk. We are looking forward to creating solutions and services based on the needs of BSI's clients and ushering them into the fourth industrial revolution."
Pietro Foschi, Group Assurance Director of BSI added: "We are delighted to be partnering with the leading blockchain provider, OriginTrail. The many sectors and communities we serve desire greater transparency of their global operations and OriginTrail's distributed ledger technology allows us to build a robust and immutable verification ecosystem."
BSI's clients can already apply for OriginTrail's blockchain services in the pre-release stage, to be among the first ones to get hands-on expertise with the technology for the supply chains of the future.
- ENDS -