ISO 27001 Information Security Management
ISO 27001 Information Security Management
Protect information, your people and your reputation.
Protect information, your people and your reputation.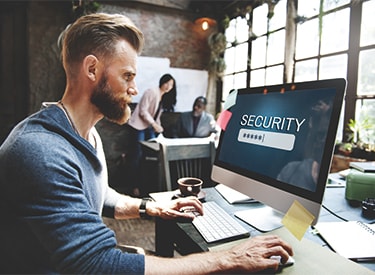 About information security
You simply can't be too careful when it comes to information security. Protecting personal records and commercially sensitive information is critical. ISO 27001 helps you implement a robust approach to managing information security (infosec) and building resilience.
ISO 27001 is part of the international standard for Information Security Management Systems (ISMS). This system for information security helps you to grow, innovate, and develop your client base in a secure and resilient manner. This results in an organization of integrity and trust. An ISMS helps organizations embed resilience and protect their personal records and commercially sensitive information from business risk and vulnerabilities. Furthermore an ISMS is a framework that provides you guidance on how to protect and manage your organization's information through effective risk management.
Our experience allows us to see how ISO 27001 helps:
Identify risks to your information and put in place measures to manage or reduce them
Requires you to identify all stakeholders relevant to your ISMS
Gives you a framework which helps you to manage your legal and regulatory requirements
Requires you to put in place controls that are proportionate to the risks
ISO 27001 GDPR
The General Data Protection Regulation (GDPR) requires organizations to adopt technical and organizational measures to protect people their personal data they process. Furthermore the GDPR includes policies, procedures and processes. ISO/IEC 27001 provides guidance that will help you meet and demonstrate compliance with the requirements of the GDPR. Please note that if you are certified for ISO/IEC 27001 it doesn't directly mean that you are automatically GDPR proof.
ISO 27001 risk management
An organization must define and apply a risk assessment procedure for information security. As this is important for identification to avoid loss of availability, integrity and confidentiality. An information security risk assessment process addresses uncertainties around those assets to build information resilience. Furthermore, this risk process shows not only risks but also valuable opportunities.
Why get an ISO 27001 certification?
Our experience allows us to see first-hand how ISO 27001 can help organizations improve and deliver real benefits:
Builds trust and credibility in the market to help you win more business
Reduces likelihood of staff-related information security breaches
Helps you comply with relevant legislation and helps make sure you keep up-to-date
Gives cost savings by minimizing incidents