Benchmark Product Certification
Benchmark Product Certification
Fire detection, Fire alarm systems and Fire extinguishers
Fire detection, Fire alarm systems and Fire extinguishers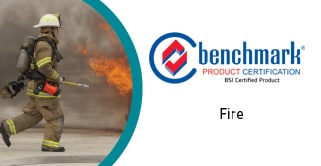 Looking to get your Fire product onto the market?
Getting your fire protection product onto the market is one of the most daunting challenges you can face. There are all sorts of regulations in place, and the requirements are unclear.
We offer a comprehensive range of fire testing services, BSI Benchmark and BSI Kitemark certification and CE marking for fire products. With over 40 years' experience in this industry and a worldwide reputation, we can help you if you are looking for independent third party certification.
Step 1: Find the right Standard
Your intended customers need assurance that your factory is manufacturing products that comply with the material, processing and testing requirements of the applicable standard. Many protective fire equipment standards (industry, regional, national and international) are in use around the world. It is critical that your product complies with the standard for the market you are targeting.
You can select from the Fire standards listed below. You can also contact us on 1300 730 134, or submit an on-line enquiry, so that our Fire experts can guide you on which standard best applies to your product and intended customers.
Step 2: Get your product tested
Representative samples of your product will need to be tested to prove compliance with the governing standard.
Our technical experts can advise you on the number of samples required and propose suitable test facilities for preliminary testing and for testing of the complete product range. The tests typically are standard for a variety of similar products and check for safety and durability, as well as fitness for purpose.
Testing can be conducted by the BSI UK Testing Laboratories, or at other NATA or ILAC registered laboratories. Alternatively, you can engage the test facility of your choice however it is essential that the test facility is properly accredited to undertake the specific tests required by the standard.
Step 3: Site assessment
Once product testing is complete, BSI reviews and advises on the test results and test report. One of our expert Client Managers will visit your factory to determine if your management and processes are capable of consistent product manufacture and that the final product complies with the applicable standard. The Client Manager assesses your quality management system (QMS) which must meet requirements for critical activities such as training, process checks, equipment calibration, communication, handling of non-conformances. Our Quality System specialists can guide you in this regard. After each assessment you will receive a confidential report detailing the scope and findings of your assessment as well as Client Manager recommendations.
Step 4: Certification and beyond
If your product passes the testing and your factory passes the assessment, your product will be certified. This will allow you to distribute your product into the market. You will be issued a certificate which authorizes your business to affix the BSI Certification logos on your products and company literature.
Annual surveillance audits must occur to maintain product certification. Re-audit is usually necessary when there have been changes to the product design, use, method or place of manufacture, or when new standards become applicable, or when new products are added to the range.