RVA Accreditation
RVA Accreditation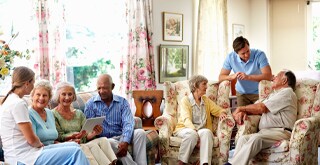 BSI is authorized by the Retirement Villages Association for RVA Accreditation Audits with their members to the industry's Code of Practice. The Retirement Villages Code of Practice 2008 provides residents and intending residents of retirement villages with better consumer protection in line with the Retirement Villages Act 2003.
The Code of Practice outlines the rights and obligations of retirement village residents and operators. It contains information that improves consumer protection, customer awareness and provides a minimum standard that all retirement village operators in New Zealand must attain, or exceed.
The Retirement Villages Association (RVA) is a voluntary association of developers, operators, and managers of retirement villages, and is committed to providing the best possible quality of life for village residents.
The RVA independently audits its members' compliance with the Code of Practice every three years.
For further information about the RVA go to www.retirementvillages.org.nz