Building Information Modelling
Building Information Modelling
Achieve efficiencies through collaborative construction
Achieve efficiencies through collaborative construction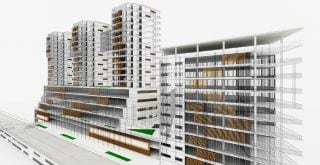 What is BIM? (Building Information Modelling)
Building Information Modelling (BIM) is the management of information through the whole life cycle of a built asset, from initial design all the way through to construction, maintaining and finally de-commissioning, through the use of digital Modelling. BIM is all about collaboration - between engineers, owners, architects and contractors in a three dimensional virtual construction environment (common data environment), and it shares information across these disciplines.
Building Information Modelling allows design and construction teams to communicate about design and coordinate information across different levels that has been unseen before. This information remains with the project, from before beginning construction, right throughout its lifetime. It also helps to analyze any potential impacts.
Since April 2016, the UK government has required construction suppliers tendering for centrally-procured government projects, including buildings and infrastructure, to be working at BIM Level 2. BSI is supporting the industry with a range of solutions to address the BIM level 2 requirements.
What are the benefits?
Through the use of Building Information Modelling and BIM certification, the following key benefits can be gained:
Faster and efficient processes
Increased productivity and speeds up delivery
Reduced uncertainty
Controlled whole-life costs and environmental data
Avoidance of rework costs
Improved safety
Opportunity to secure Government contracts
Reduced on-site waste
Prevention of errors
The value of BIM
Discover more about the BSI BIM journey and learn the benefits that BAM Construct UK Ltd, BAM Ireland and Skanska gained from achieving the BIM Design and Construction Kitemark. Understand why BIM is critically important to the construction industry; how it helps to ensure best practice and supports organizational growth.
BSI BIM Solutions
Whatever your stage in the adoption of BIM, you can achieve significant commercial, operational and financial benefits through BSI's BIM Solutions.
Standards
The range of BIM standards has been developed to help the construction industry adopt BIM Level 2. These include:
ISO 19650-1:2018
ISO 19650-2:2018
PAS 1192-3:2014
BS 1192-4:2014
PAS 1192-5:2015
BS 8536-1:2015
BS 8536-2:2016
Certification
BSI Kitemark for BIM Asset Management
BSI Kitemark for BIM Objects
BSI Kitemark for BIM Level 2