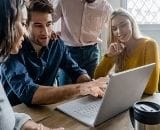 15 Strategic Steps To Help Businesses Lower Web Hosting Costs
In today's business world, having a website is essential. Many customers prefer to shop online, and having a robust website ensures that they have access not only to important information about your business but also to your products or services—all at the click of a button. But Web hosting can be expensive, especially for businesses just starting out.
Fortunately, there are several strategic steps and solutions—some of them surprisingly simple—that businesses can leverage to make the expense more manageable. Below, 15 Forbes Technology Council members share smart ways a business can decrease its Web hosting costs.