International Women's Day
As today is International Women's Day we sat down with some of the inspiring women working in BSI's global centre of excellence for Cybersecurity and Information Resilience (CSIR). Each have expertise in different areas of the business during our question and answer session they share their own experiences in areas such as work-life balance, how they develop their teams and challenges they have faced in their careers.
Margaret Kavanagh - Global Head of Operations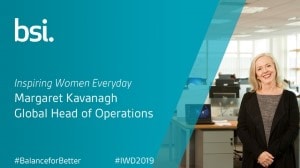 What is your role in BSI CSIR?
As Global Head of Operations my role is to ensure the sustainability and improvement of the business in terms of its growth, culture and financial performance. By maximizing all elements and working as a team we achieve this goal and ensure that the values and ethics of BSI are followed throughout BSI CSIR.
I manage three teams across the UK and Ireland and am fortunate to have a good balance of men and women on my teams.
What have been your biggest achievements in your career?
I was fortunate enough to be part of Espion from it's infancy 15 years ago when it employed only five people to its acquistion by BSI in 2016. We grew the organization to a staff of 70 people and became one of the premier cybersecurity companies in Ireland. We are now BSI's centre of excellence for Cybersecurity and Information Resilience and part of a global organization that employs over 4,500 people with over 86,000 clients operating in 193 countries.
Aoife Stokes - Head of Human Resources
What do you do to achieve a work/life balance?
I am a firm believer in having a work/life balance so I walk regularly and play sports every week. I play tennis three times a week and play league tennis and competitive golf. Playing sport at a competitive level helps me to unwind and to think strategically. Playing matches also helps to practice mindfulness as you concentrate solely on the task at hand and shut out all other distractions.
I also lecture in the evenings on leadership/ management skills which helps me stay connected with developments in my profession.
What is your leadership style?
I have gained a lot of exposure to leadership practice and theory through my work in HR and in my years of lecturing on leadership. In terms of my management style, I follow the principles of the situational leadership model i.e. a manager needs to vary and adapt his/her style depending on the situation at hand. The key thing is to be flexible and choose an appropriate style – directing, collaborating, delegating etc.
Can you describe a challenge you face in your role?
Our biggest challenge in HR continues to be the attraction and retention of high quality people for our business. We are a service business and it is critical that we hire and retain the best. Once on board, the challenge for HR is to help to create a culture within the company which focuses on employee reward, engagement, wellbeing and which acknowledges individual contribution and helps people to attain their personal and professional goals.
Inés Rubio - Head of Information Management and Incident Response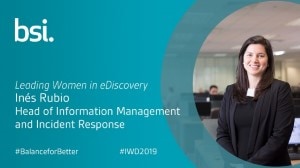 What is the best career advice you have received?
Trust in yourself and your colleagues is the way to learn the most and to work in the best environments. Teamwork is impossible to achieve without trust.
Transitioning from a consultant to a leader role and knowing how to "let go" and give others the opportunity to grow and take responsibility.
How do you manage work life balance?
I am involved in a lot of sporting activities such as golf, GAA and cycling. It helps me unwind after a busy day and clear my head, focus on something else. Playing a team sports is similar to working within a team, you have to trust each other, understand the strengths of your team and work towards a common goal. I also enjoy listening to music, country music is my guilty pleasure!
Your biggest challenges / achievements in your career to date?
One of the biggest challenges I have faced to date, was transitioning from a consultant to a leader role and knowing how to "let go" and give others the opportunity to grow and take responsibilty.
Most recent achievement, this year I became a mentor, I am excited to be able to share my experience and expertise and assist other women in the legal sector.
---