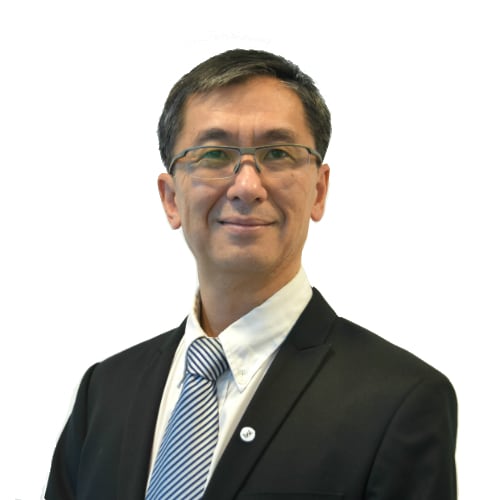 Operation, Compliance & Risk Director
---
Specialized in
Chartered Engineer in Gas and Mechanical Engineering
IRCA & CCAA Lead Auditor in Quality
ISO 31000 Risk Management System
ISO 14001 Environmental Management System
ISO 22301 Business Continuity Management
ISO 45001 Occupational Health and Safety Management System
ISO 9001 Quality Management System
ISO 14064, PAS 2050 and PAS 2060 - GHG verification
ISO 50001 Energy Management System
ISO 55001 Asset Management System
ISO 39001 Road Traffic Safety Management System
ISO 20121 Event Sustainability Management System
ISO 37001 Anti-Bribert Management System
---
Career experience
Over 16 years experience in compliance audit and training for multi-national corporations, domestic companies, government organizations, NGOs and SMEs in their Quality , Environmental, Occupational Health & Safety, Green House Gas (GHG) and energy management certification projects.
Over 13 years experience in Engineering Construction
Over 18 years experience in auditing and tutoring
Over 10 years managerial experience
Over 8 years experience in risk and compliance management
---
Qualifications
BEng in Mechanical Engineering
Chartered Engineer in Gas & Mechanical Engineering
HKIE member
IRCA Quality Management System Lead Auditor
CCAA Quality Management System Lead Auditor
Registered Engineer in Gas Discipline
Qualified service provider for carbon audit under Hong Kong funding scheme
---
Working experience highlights
Manage and direct the overall operation and compliance in audit planning, delivery and customer service for certification audit
Prepare and compose sustainability report and business continuity plan for BSI Hong Kong business.
Develop and execute the scheme for certification such as PAS 55 / ISO 55001 (Asset management) and Green House Gas (GHG) & energy audit.
Conduct and develop various types of training courses including ISO 9001, ISO14001, ISO 45001, Integrated Management System for construction industry, GHG inventory verification, Asset management and Energy Management training courses.
Conduct the certification and surveillance audit for ISO 9001, ISO 14001, ISO 45001, ISO 50001 and ISO 14064 -GHG verification.
Technical manager for integrated management system to support China & Hong Kong operations.
Review the manual prior to executing the initial assessment for ISO 9001, ISO 14001, ISO 45001 and ISO 50001
Prepare audit schedule.
Review and approve the auditor's report prior to issuing the certificate.
Liaise and co-ordinate with clients resolving the problems in relating to ISO 9001, ISO 14001, ISO 45001 and ISO 50001 requirements.
Ensure the compliance of accreditation requirement fulfilling to ISO 17021 and European accreditation guidance.