Compliance Navigator
Compliance Navigator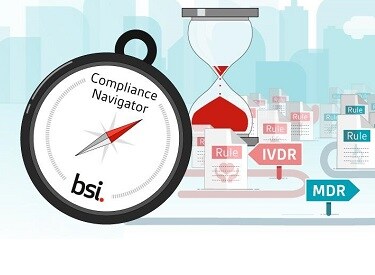 &nbsp>
There's no room for error in Medical Device and IVD standards. You need all your team working with the same information, wherever they are. You need them to know when it's going to change, to know the instant it changes and to know what those changes mean for your devices.
Digital tools that save you time and money
Compliance Navigator holds over 4,500 documents essential for medical device and IVD compliance. With multi-user access, it's available to your whole team.
Alerts to changing standards
Put your team on the front foot, with alerts for when standards change and advance warnings for upcoming changes to BS standards.
You can create regulatory profiles and templates, so you have the information you need in one place, along with links to relevant content outside of Compliance Navigator.
You can see the full text of standards, legislation and guidance, so you don't miss anything important.
Smart Support, guidance and expert commentary
Fast track your understanding of the MDR, IVDR and MDSAP regulations with Smart Support and guidance. You'll also interpret standards correctly with our expert commentaries.
You'll find it easy to see what's new, with 'red line' changes between versions.
And you'll have a powerful tool that helps you avoid risk, stay competitive and maximize profitability.
What users love
See how these companies use Compliance Navigator to save time, avoid mistakes and stay a step ahead.
Proceed with confidence
Use the most authoritative source of medical device standards information on the market. With over a century of experience, BSI is trusted by thousands of companies worldwide to help them stay compliant and grow their businesses.
"BSI is very professional… and consistent with the services provided." Regulatory Affairs Manager, USA
Compliance Navigator holds over 4,000 BS, ASTM, AAMI, CLSI and other internationally recognized standards; relevant EU and US regulations including the MDR and IVDR; FDA guidance; and expert commentaries.
---