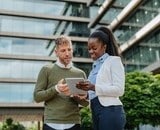 Sustainability talks: Achieving Net Zero
How will your organization play its part in the energy revolution towards net zero?
Companies can naturally be left feeling overwhelmed or at a loss when it comes to developing sustainability strategies and incorporating their net zero goals.
Join our sustainability expert Raj K. Prasad for a live session talking about organization's road to net zero.