Mohammed Bin Rashid Smart Learning Program Receives ISO Certification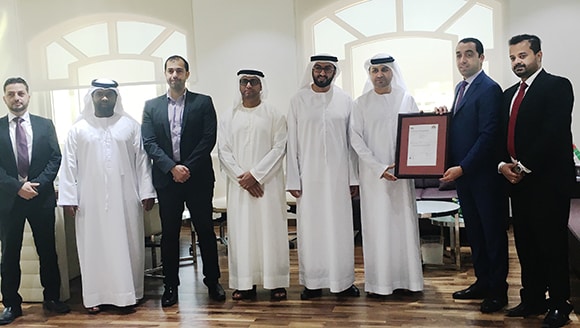 Mohammed Bin Rashid Smart Learning Program (MBRSLP), an initiative that aims to raise the standards of education in the United Arab Emirates to meet the best international standards, announced today that it has received the prestigious ISO 27001 certificate from the British Standards Institution for its Information Security Management System (ISMS).
"We are delighted that the MBRSLP has been recognized with this prestigious international certification," said His Excellency Marwan Ahmad Al-Sawaleh, Undersecretary of the Ministry of Education, at the handover certification ceremony held in the Ministry of Education.
"This recognition bears testimony to the sustained efforts of the MBRSLP to achieve the highest international standards in education and contributes significantly to the promotion of the status of the Program as a benchmark in the field of smart learning initiatives in the region. Additionally it inspires us to move forward in expanding the Program as part of our commitment to promote education in the UAE. It is truly a testament to the concerted efforts of all our stakeholders who aim to empower and inspire our future leaders," H.E. added.
"From the Program's onset, we have worked hard to maintain the utmost standards in information security to match the global criteria for excellence in education," His Excellency Mohammed Gheyath, Director General of MBRSLP commented.
"We are proud to attain ISO 27001 Certification which is one of the most internationally recognized and accepted standards in information security. This clearly demonstrates our commitment to apply the highest technical and legal standards that contribute to strengthening information security, promoting education quality, and providing principals, teachers, students and parents alike with a highly dynamic and interactive experience," H.E. Gheyath added.
ISO 27001, also known as ISO/IEC 27001:2013, is an internationally recognized best practice framework for information security management systems. It provides a regulatory framework of policies and procedures allowing organizations to establish and maintain a comprehensive information security management system that includes implementing, maintaining, monitoring, reviewing/auditing, responding to non-compliance, and improving the organization's ISMS.
MBRSLP is one of the most ambitious national education initiatives and aims to raise the standards of education in the UAE. MBRSLP is a great example of smart education initiatives worldwide as it applies state-of-the-art technologies in the classroom. MBRSLP currently covers 208 schools with 34,500 students and more than 5000 teachers enrolled nationwide.
(Source:www.edarabia.com)